This post is part of a sponsored collaboration with Copper Fit®. All opinions are based on my experience with the product. #SleepWellWithCopperFit
Sleep is such a vital part of our lives, especially if you are trying to live a healthier lifestyle, yet so many of us struggle to actually get an adequate amount of it. Some of this might have to do with our busy lives, but it also could be because of the quality of our mattress. Living a healthier lifestyle often means incorporating new workouts into your daily routine, and working out while tired is just no fun.
I recently subscribed to a popular fitness app (notice those weights next to my nightstand) and I admit that I have completely fallen off the workout bandwagon these past few months. I was doing so well until I started experiencing back and neck pain which was starting to keep me up at night. And because I was up all night, I wasn't rested enough to do my workouts.
For years, I thought the mattress my husband and I had was a good fit, until I started experiencing the back and neck pain. I just sort of attributed the pain to carrying kids around all day and then it occurred to me, after being on vacation and sleeping in another bed, that it actually may be my mattress or pillow. I tried swapping out my pillow a few times and that still wasn't fixing my neck pain. It finally came time to try switching my mattress and within three sleeps, my neck pain had been reduced drastically (and that is the honest truth). My body was trying to tell me something and it took me months to figure it out.
The Copper Fit® Replenish Mattress
The mattress my husband and I switched to is the Copper Fit® Replenish mattress, which is designed to give you a deeper, more rejuvenating sleep. I struggled to get comfortable the first night I unrolled the mattress out of the box, because I was so used to a firmer mattress. I was used to it by the third night and I've been getting such better rest at night because of how comfortable the mattress is.
This mattress is copper-infused, with pressure relieving memory foam and a 5 zone comfort system. You don't sink into the mattress like you might think. Instead, the foam sort of hugs every curve on your body to provide a cradle of comfort which allows you to sleep and recover restfully in order to live a healthy, active lifestyle.
Upon ordering, I had the choice of ordering the Replenish Ivory or Replenish Black color. Either one would've worked with my bedroom, but the lighter color looks great. And once I put the sheets on you can't tell what color it is anyway. The Copper Fit® 100 night money back guarantee and free shipping and returns made this mattress purchase a no-brainer. If I didn't like it, I could easily just send it back (which means I wouldn't be sharing it with you today).
The 5-zoned support layer that I mentioned above is a layer that targets the different pressure points of your body targeting the head/neck, shoulders, back, hip/lumbar region and even your heels.
ZONE 1 offers enhanced pressure relief in the head and neck area- so your pillow doesn't have to do all the work.
ZONE 2 provides advanced support for your shoulders.
ZONE 3 gives the most support in the back area to help get rid of the aches and pains that we sometimes experience (or often experience, in my case).
ZONE 4 gives your hips a combination of support and pressure relief to achieve the amazing comfort you need to sleep.
ZONE 5 gives you relief in your heels.
This mattress is made of 100% polyurethane in the USA and is CertiPUR-US™ certified. This means that it is manufactured without chemicals or heavy metals. It is also phthalate-free and low-VOC (volatile organic compounds) which also means this mattress isn't stinky like some new fabric products can be. The foam is manufactured using a variable pressure foaming process that is the most environmentally-friendly in the industry.
What completely amazed me was how small the mattress was when it first arrived. It was rolled up like a snail in a cardboard box and I literally unpacked it myself, rolled it out onto my boxspring, and cut the plastic open. The air exposure instantly made the mattress fill out to its full size and it was ready to go! So simple.
My husband and I have been super happy with our mattress and I'm so glad we were given the opportunity to swap out our old mattress for a new one. I also would think about this for your pet. For example, it might be time for your Dachshund to get a new bed. A mattress wasn't high on my priority list, but with this one being so affordable and practical, it just made sense.
Learn More
To learn more about the Copper Fit® Replenish mattress and to see if it's a good fit for you, visit getcopperfitmattress.com.
You can also buy a Puffy or Purple mattress (see comparison) which are similar to the CopperFit, but have their own unique features.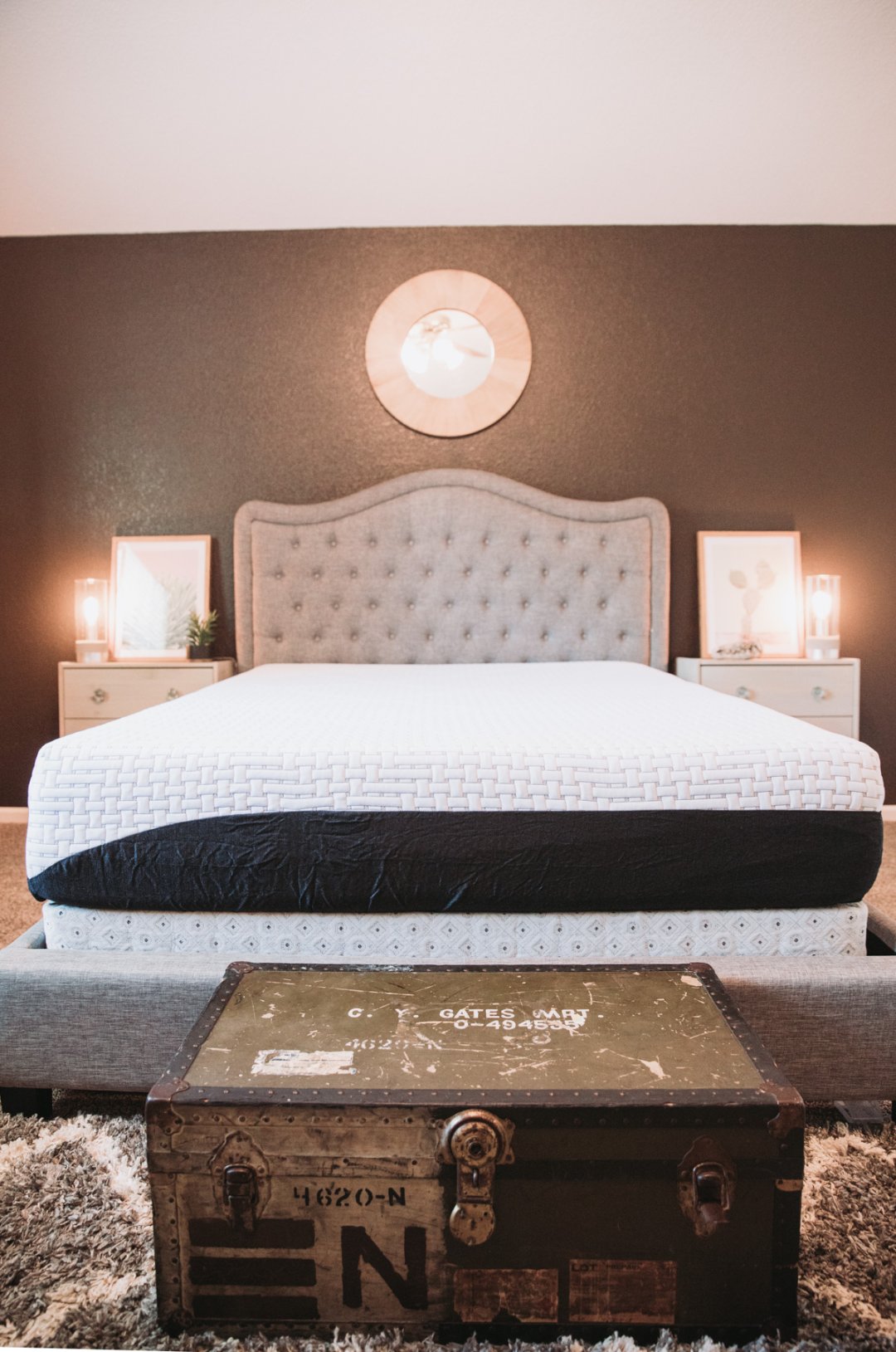 Follow me on Instagram @cristencasados to see unboxing updates like this! This is the best place to stay up to date with what's going on with my blogs.