This post is sponsored by Everywhere Agency on behalf of Fage; however, all thoughts and opinions expressed are my own.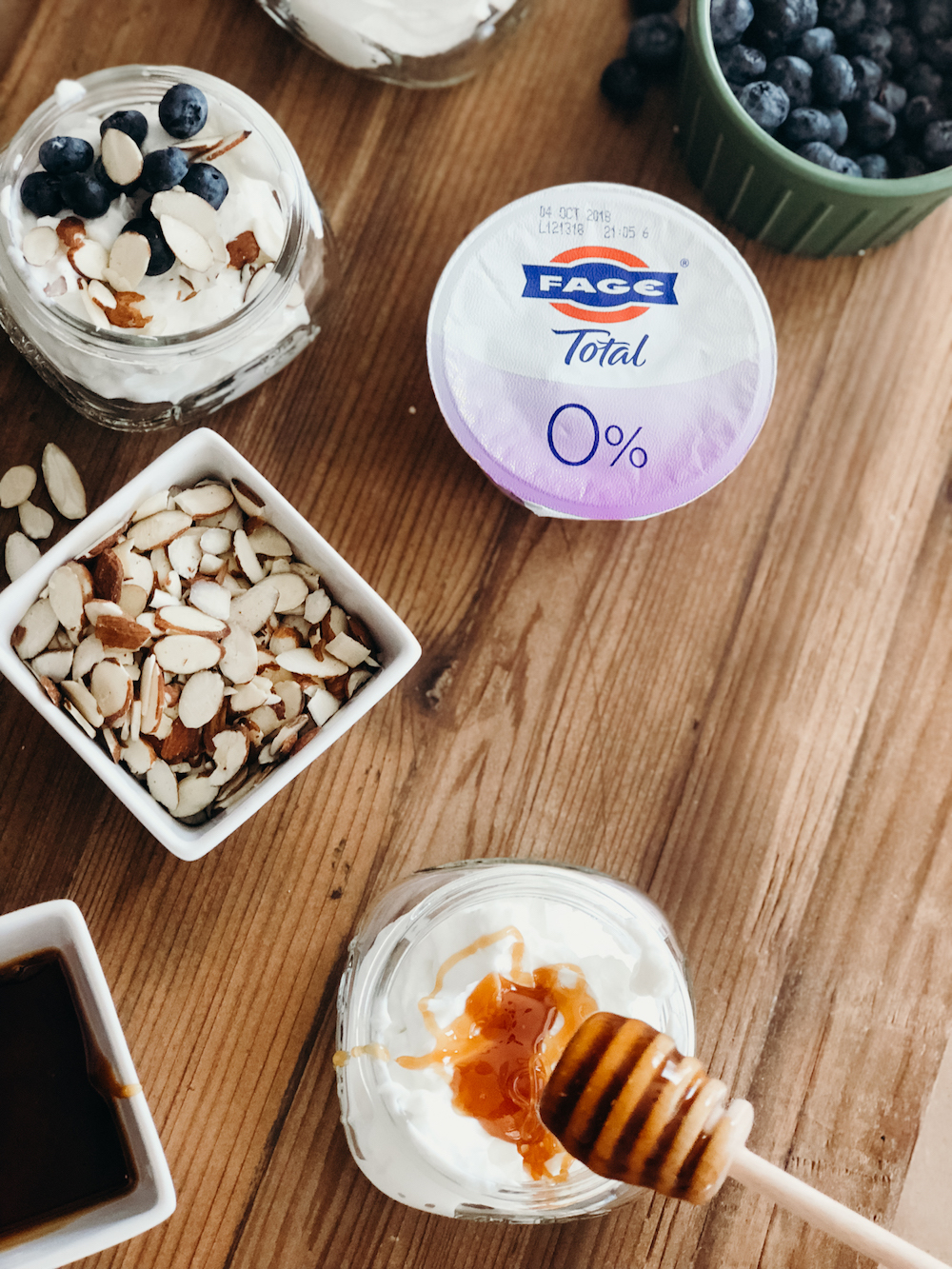 Does your family ever get into a snack rut?  My girls come home from school and act like they had nothing to eat all day, so naturally they go for the quickest snacks they can possibly grab.  Today, I switched things up and prepared a fun sweet and savory yogurt bar for the entire family and it was a huge hit.  They loved it so much more than I thought they would (knowing how picky they can be).  They were even fighting over ingredients – which was a good thing!
The Yogurt – Plain Fage Total 0% Greek Yogurt
The base ingredient in our yogurt bar is the plain Fage Total 0%.  Fage Total 0% is Non-GMO Project Verified, gluten-free, additive and preservative free, contains no added sugar and is a great source of calcium.  It's made with only milk and live active yogurt cultures which is great for your gut health.
By using the protein rich plain yogurt, we can then layer it with sweet or savory flavors to suit each individual's taste.  The idea for this yogurt bar is to keep it on the healthier side, and since the Fage Total 0% all natural strained Greek yogurt has only 90 calories per serving and 0g of fat, it's the perfect base for a healthy, protein-packed after school (or work) snack.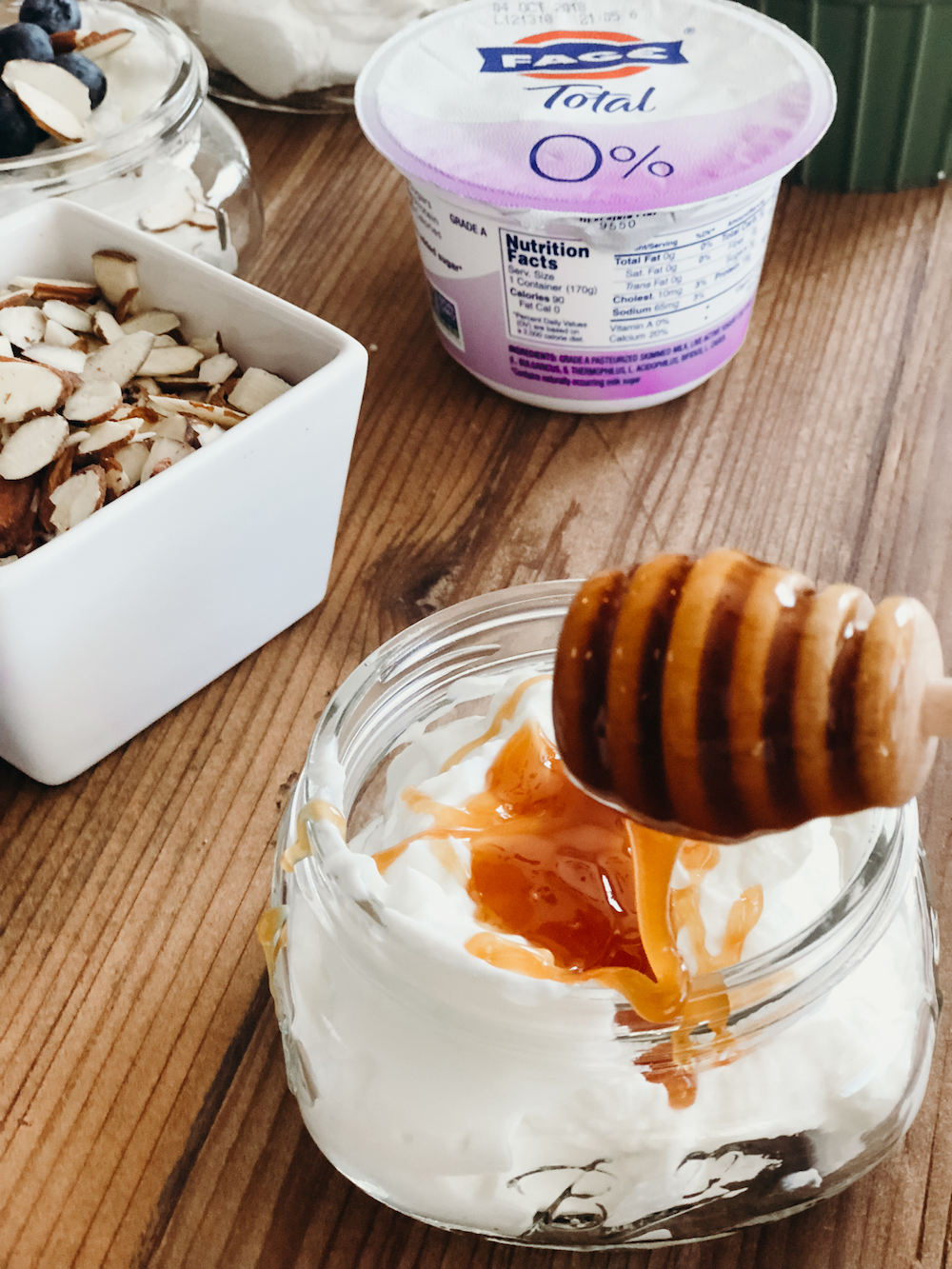 Sweet Greek Yogurt Bar Ideas
Fruit and nuts are always great in Greek yogurt.  I offered my girls fresh organic blueberries and organic sliced almonds.  We also combined Manuka honey and banana slices for another healthy sweet yogurt recipe.  Our final sweet yogurt recipe included powdered peanut butter (not protein powder) and more banana slices.  This gives you a little bit of that sweet and salty taste, which I love.
Other healthy sweet yogurt bar mix-ins that I love are dried cranberries, fresh mango, raspberry jam, maple syrup, dried cherries, fresh raspberries, strawberries and blackberries.  I love to combine soft and crunchy textures, so I also love to add toasted coconut or chopped walnuts.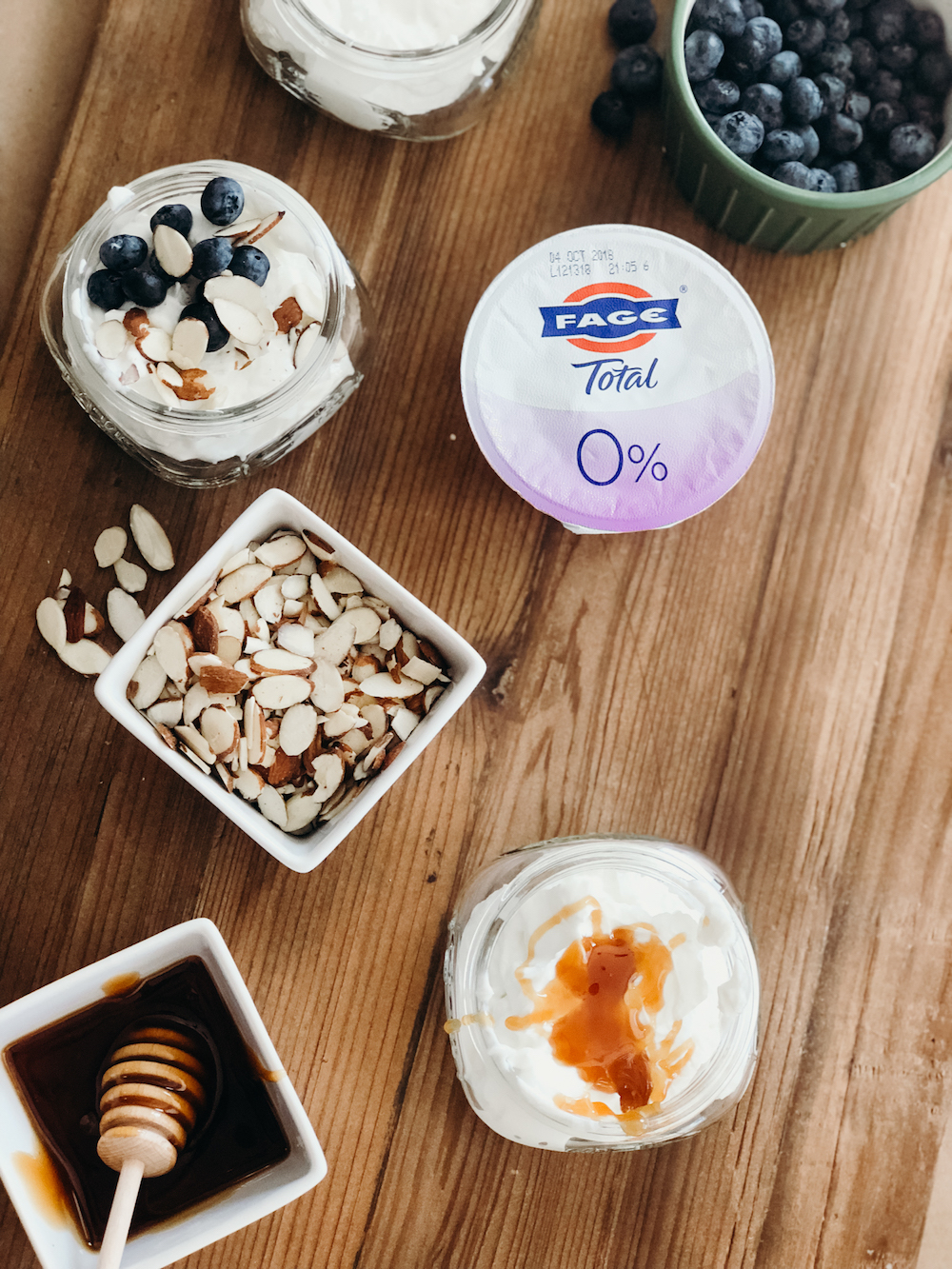 Savory Greek Yogurt Bar Ideas
In case you're not a fan of yogurt with sweet ingredients, you might just love my savory greek yogurt bar idea.  Sprinkle your plain Fage Total 0% with your favorite brand of everything bagel seasoning, and homemade bagel croutons.
Croutons
Cut a plain or whole grain bagel into 1/4 inch squares and lay out on a baking sheet.
Broil for 3-5 minutes (watching carefully to keep from burning).
This is by far my new favorite way to eat Fage Total 0% plain Greek yogurt.  The combination of the everything bagel seasoning and the toasted bagel croutons makes it taste like you're eating a bagel and cream cheese… my go-to breakfast!
If you can't find everything bagel seasoning, you could also use an everything bagel to make your croutons.
Other savory yogurt bar mix-ins are roasted nuts, pico de gallo salsa, roasted diced jalapeno, ranch dressing seasoning or taco seasoning with homemade tortilla strips.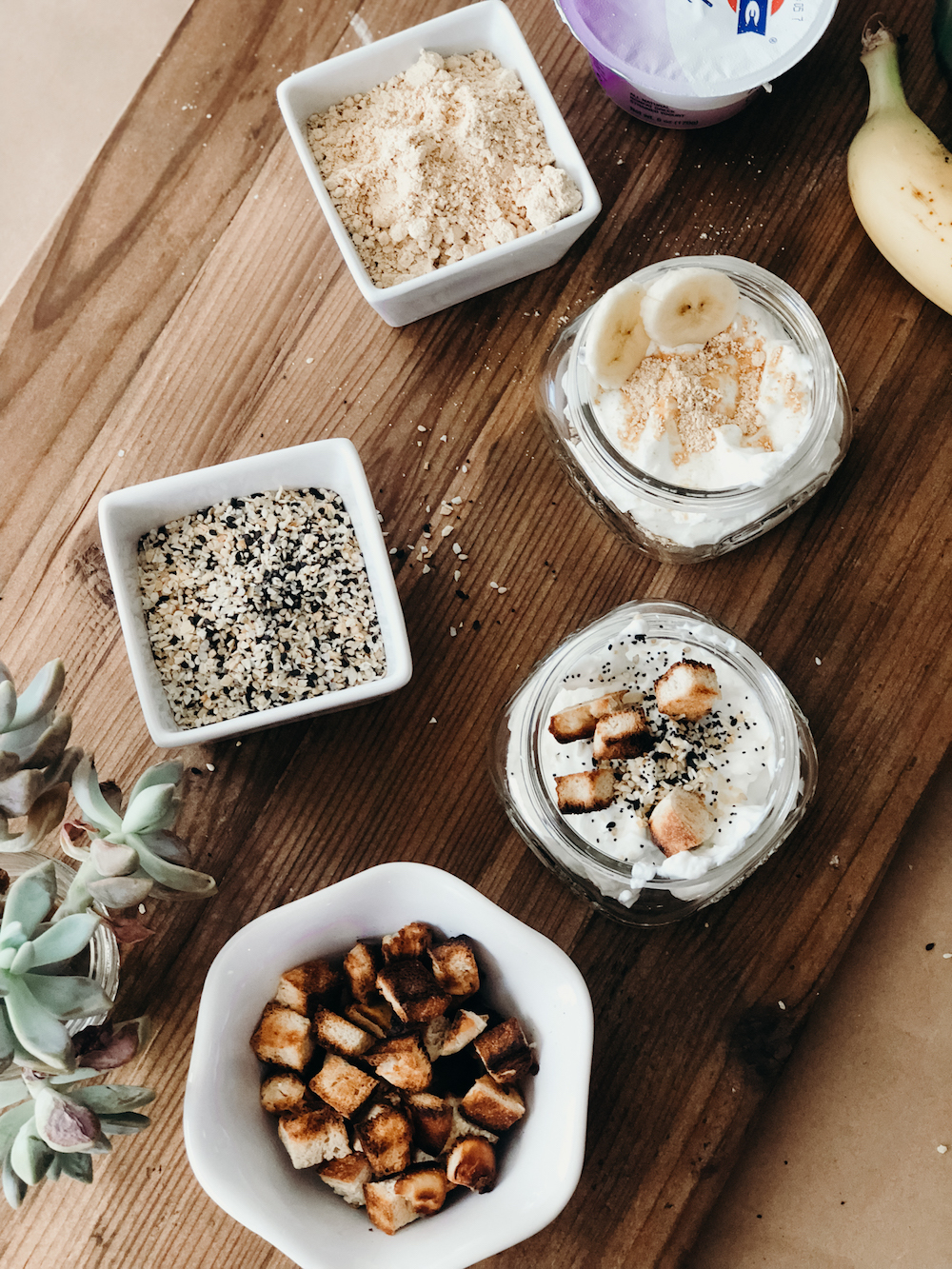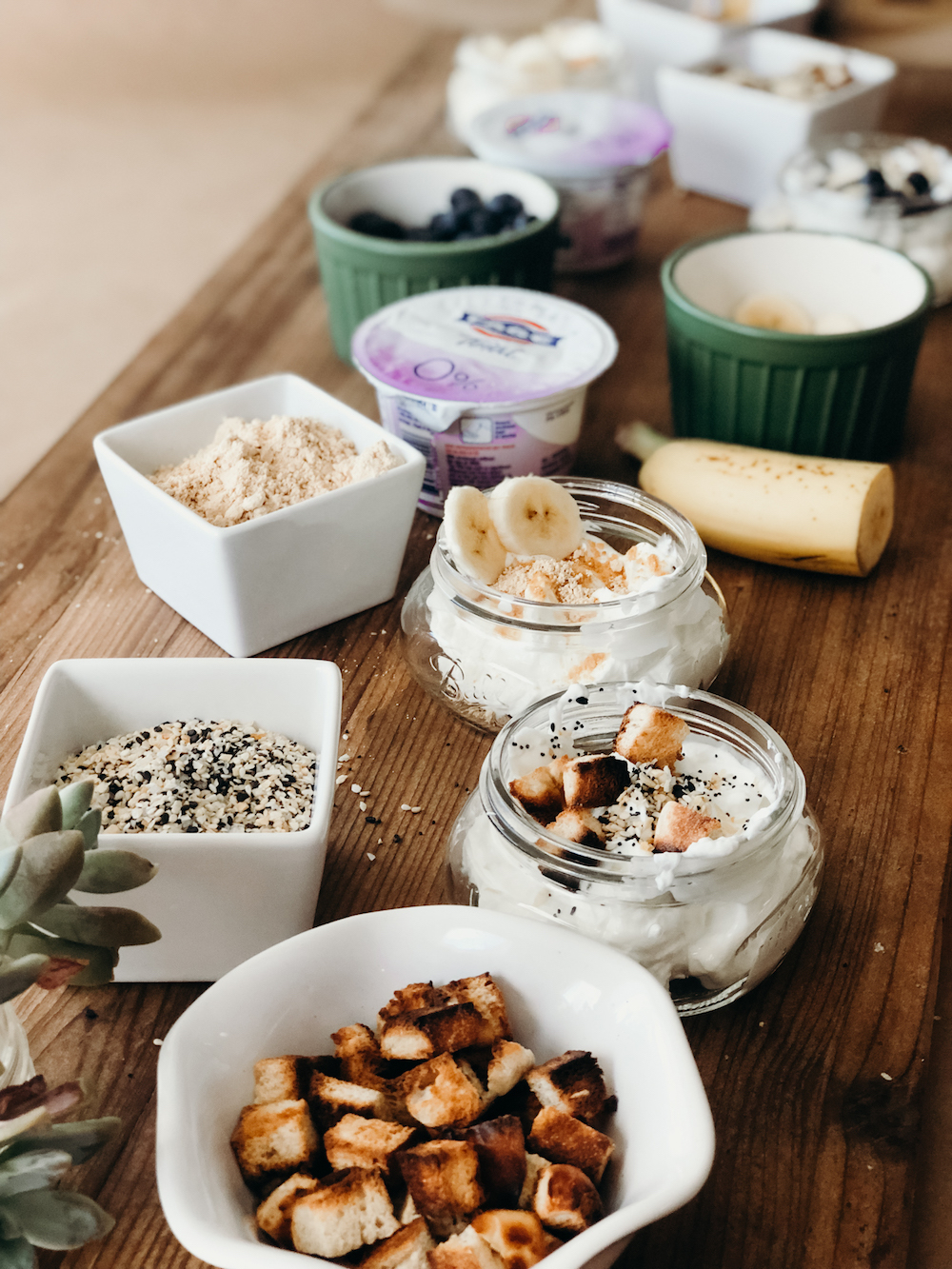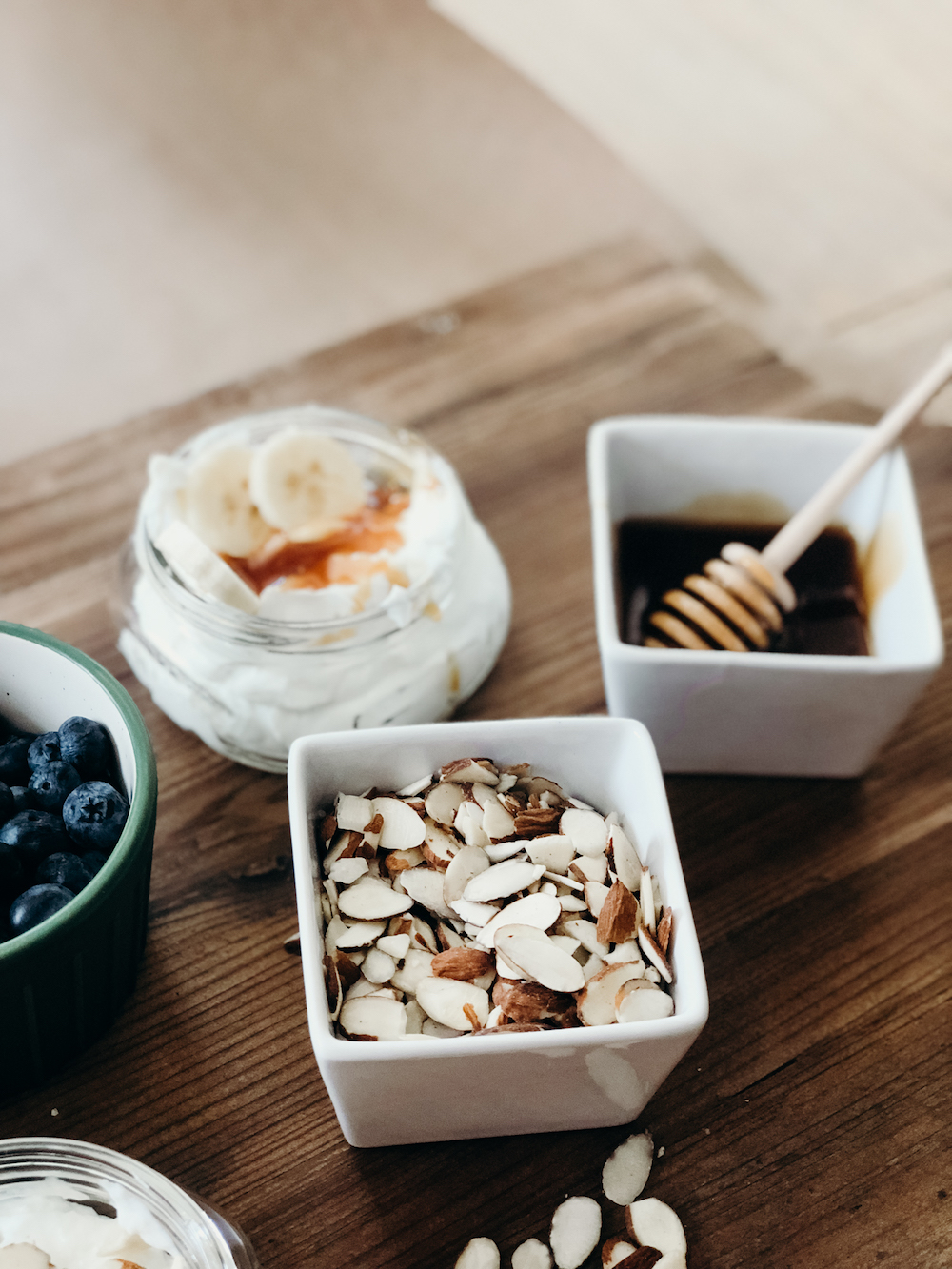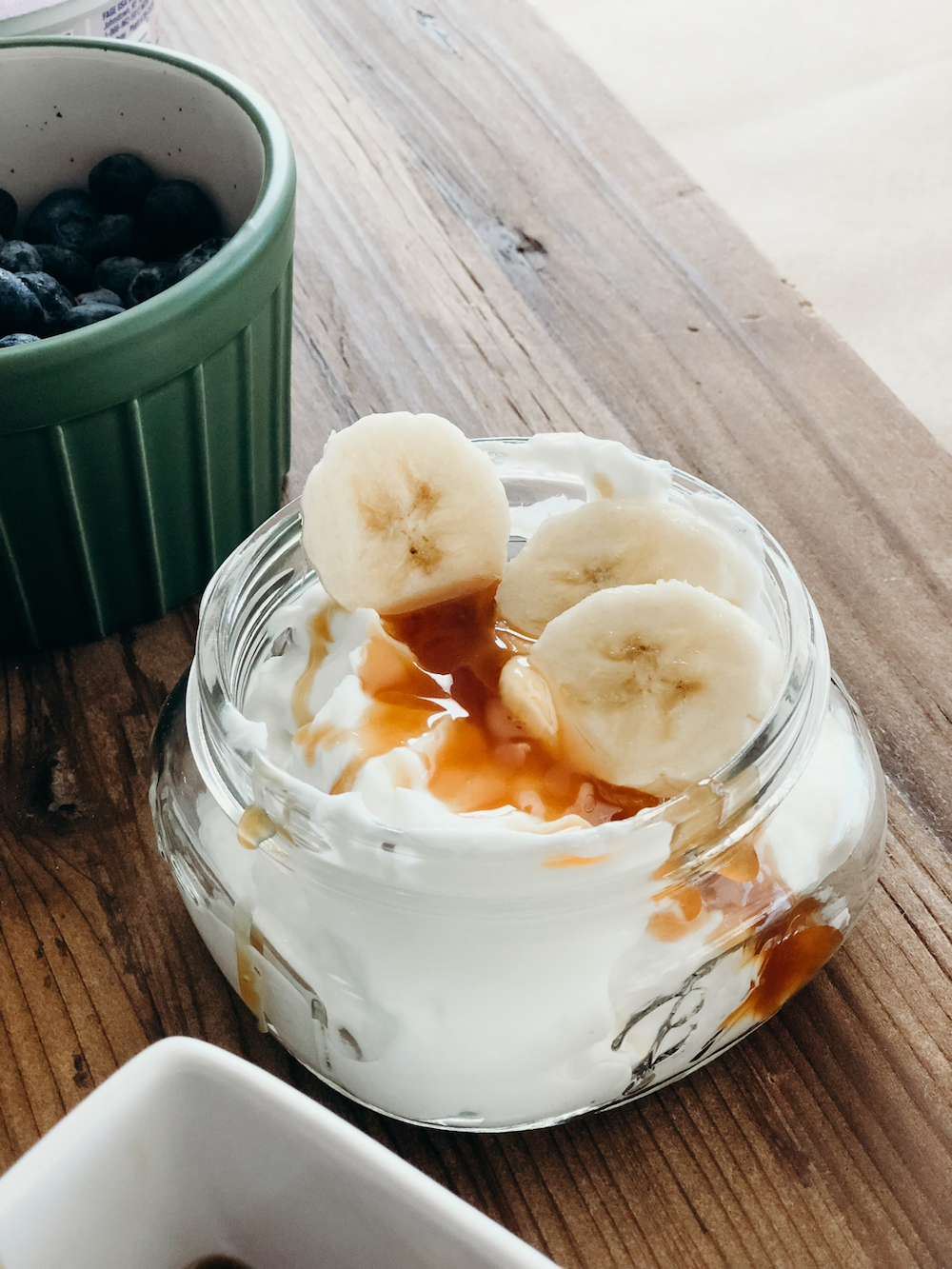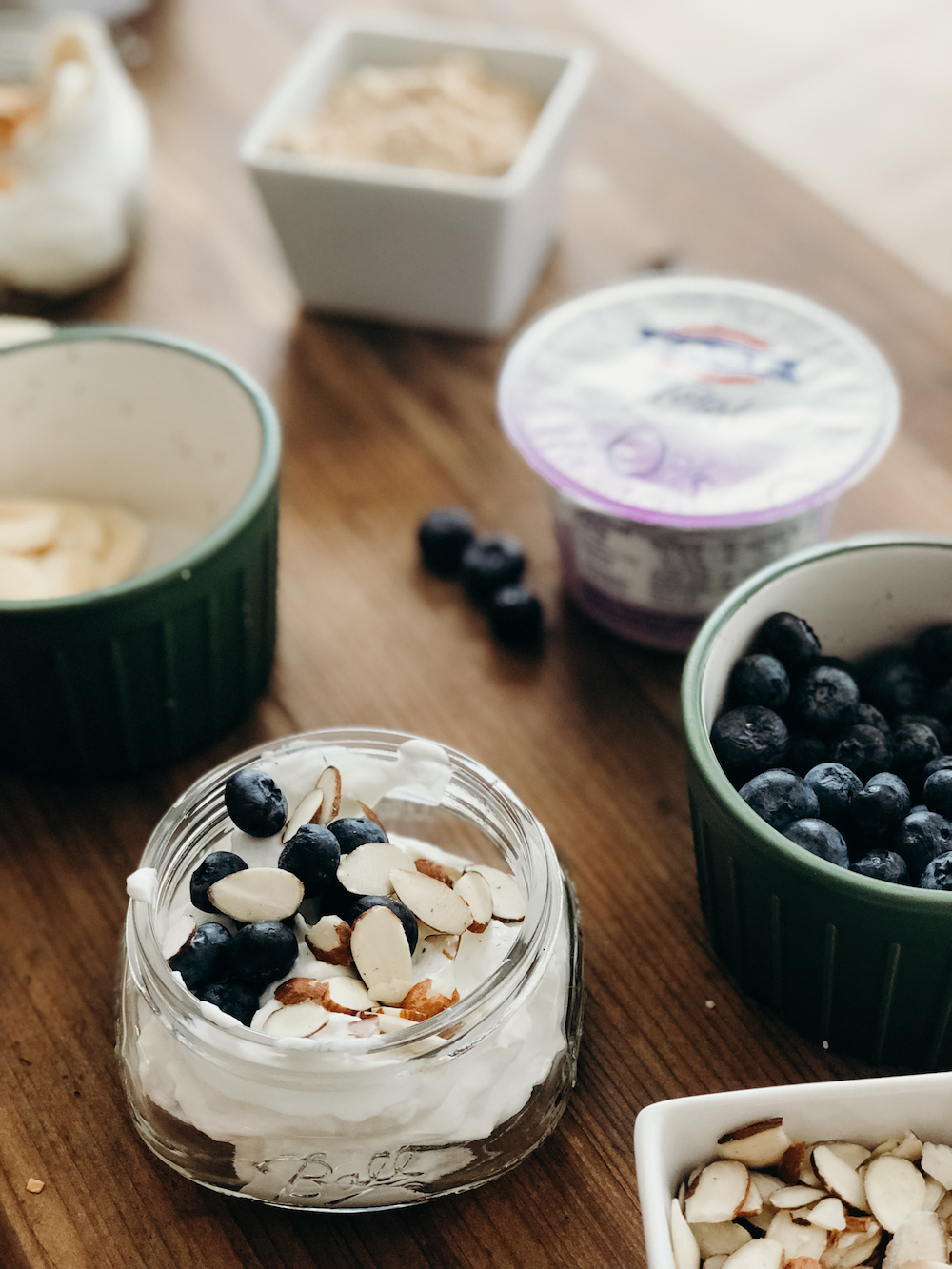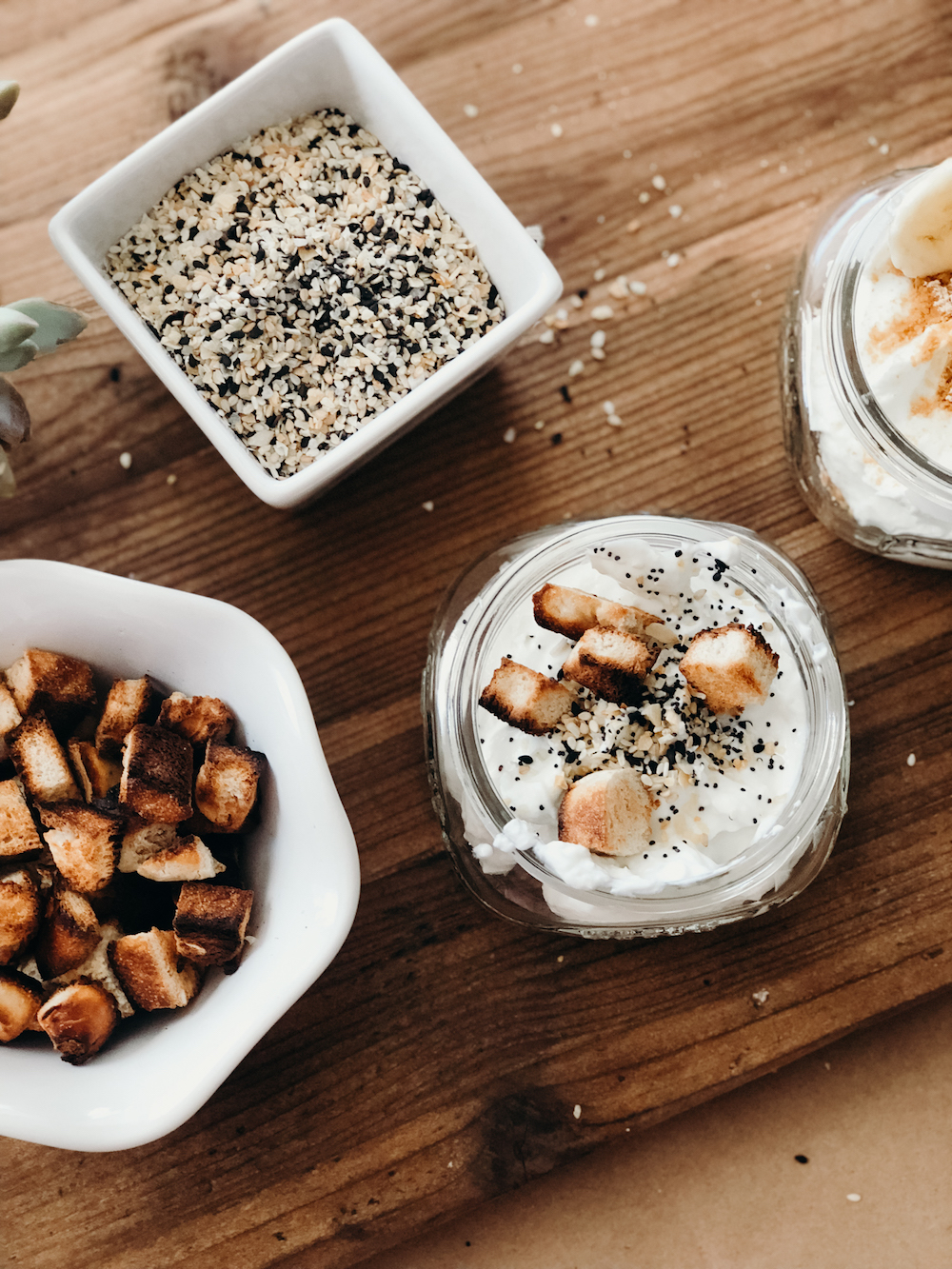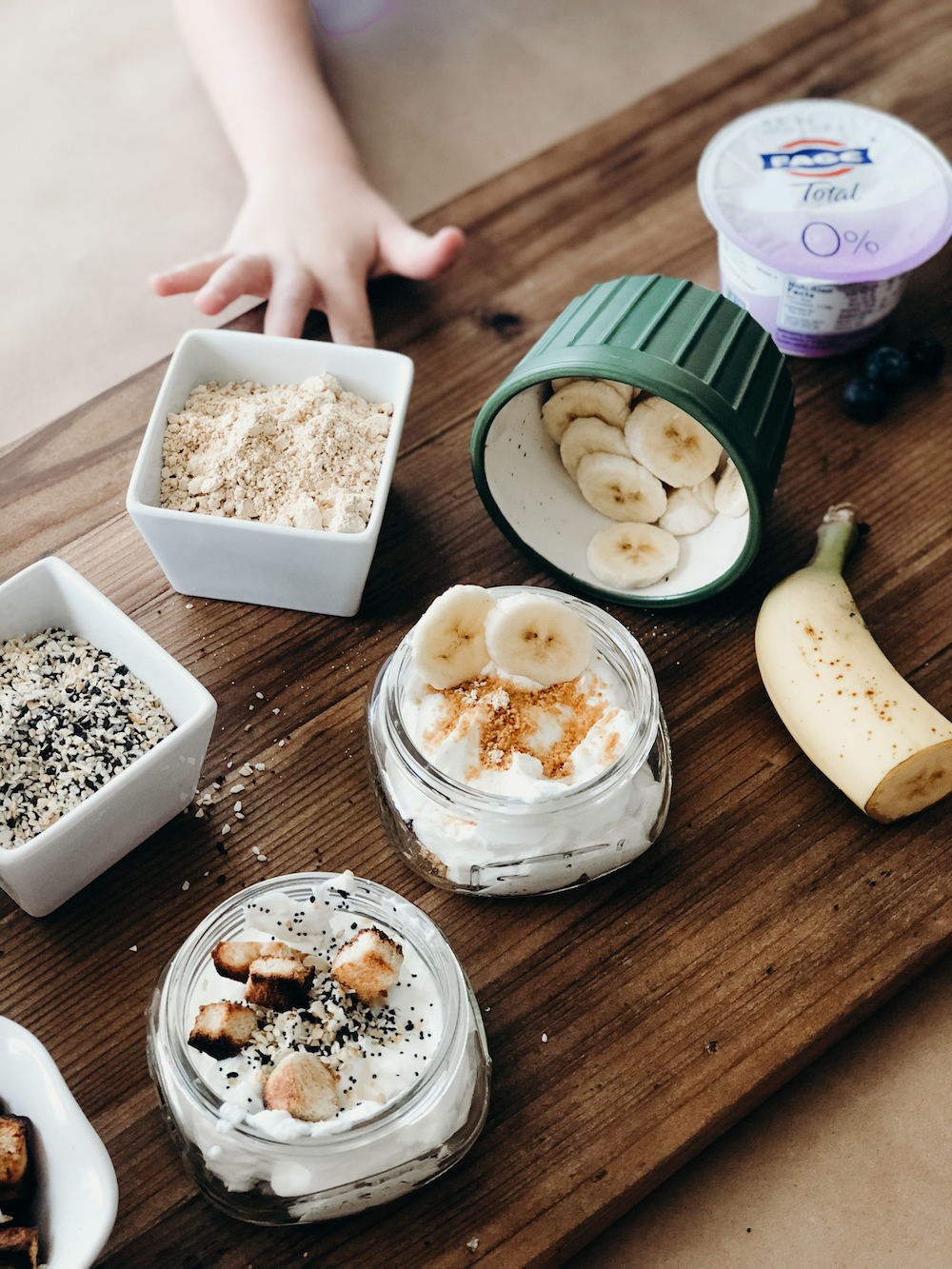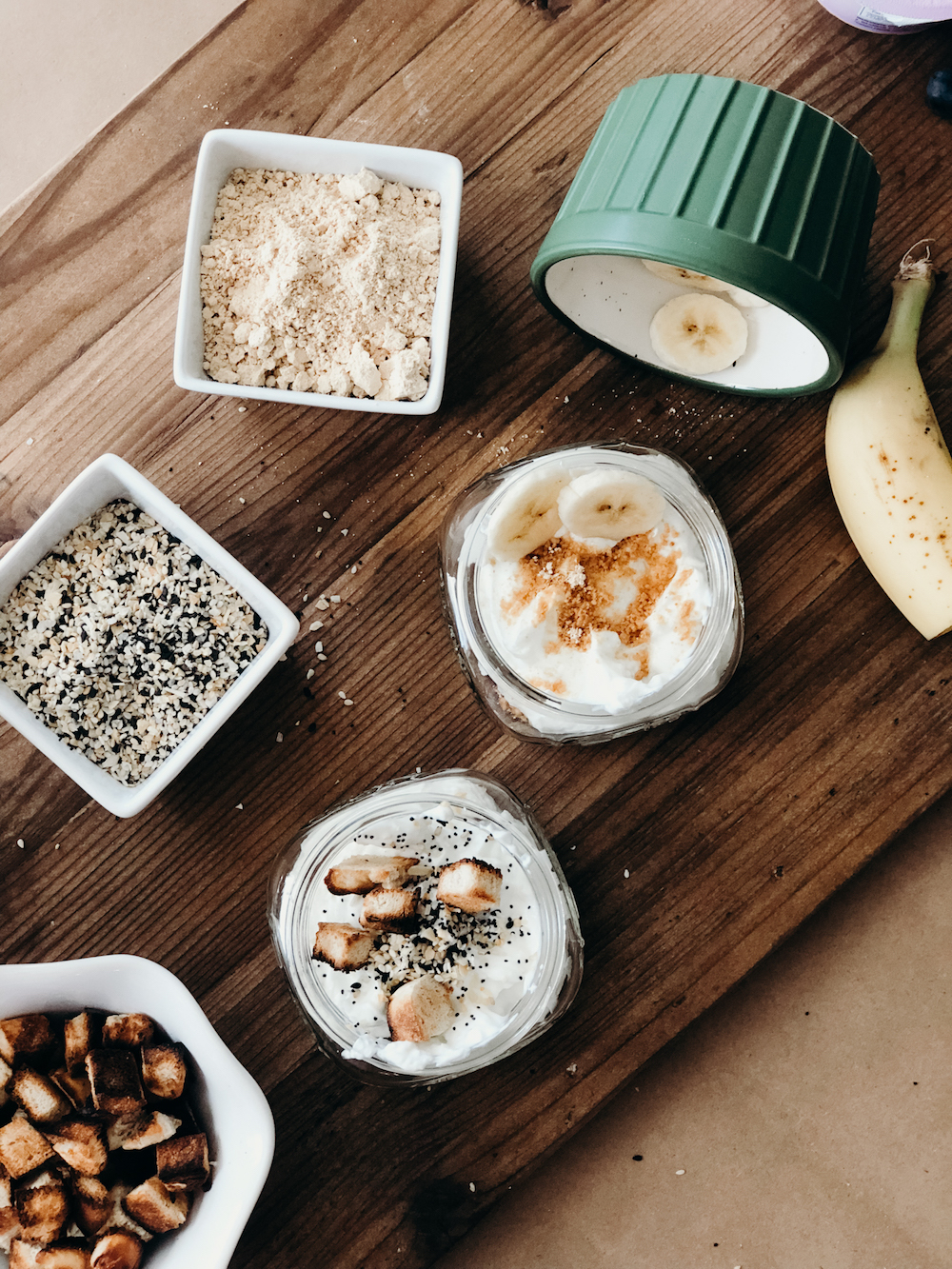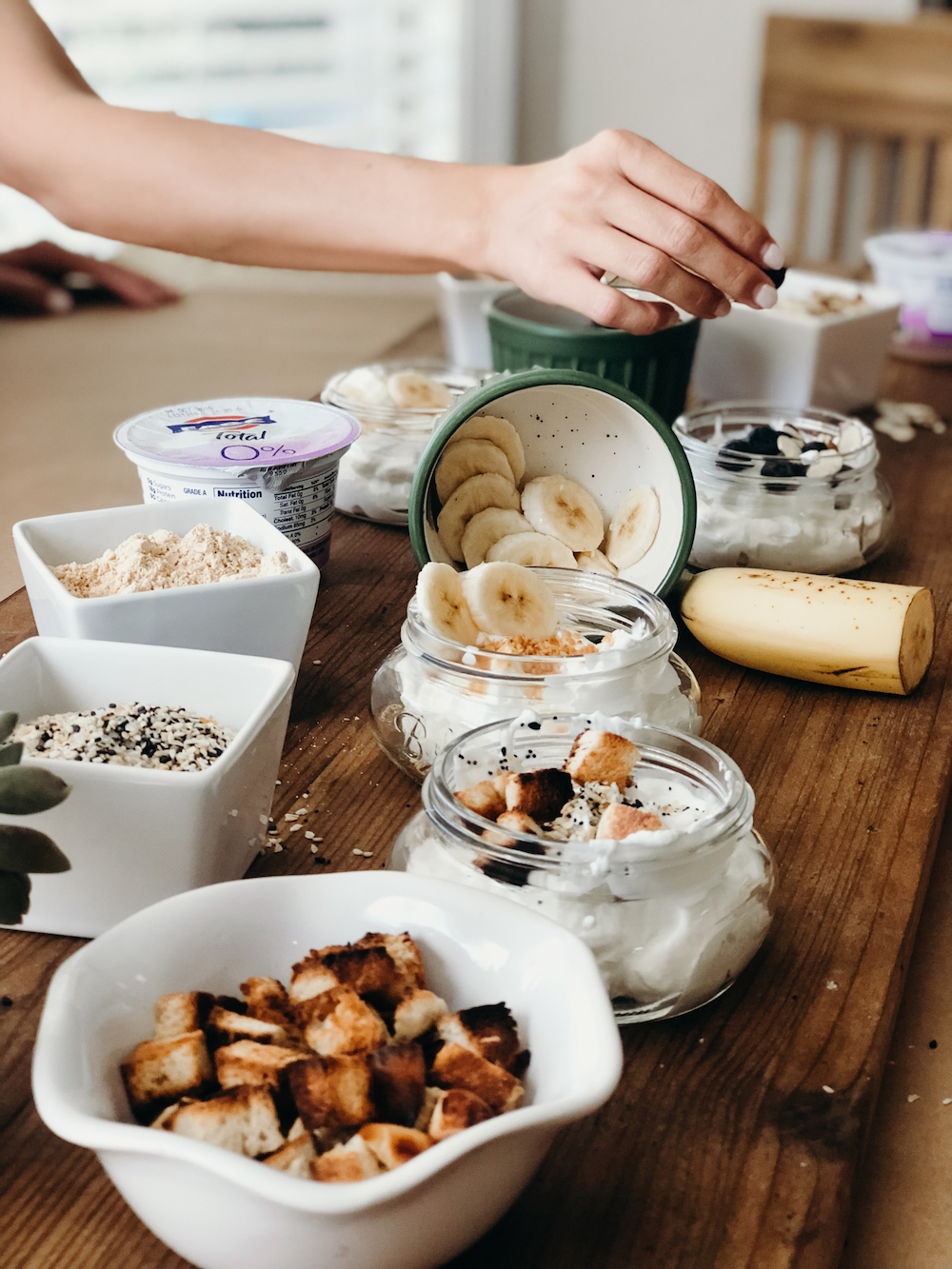 I feel like you really can't go wrong with any combinations of the sweet and savory suggestions I listed above.  Kids love getting to create their own recipes and you can easily prepare most of the ingredients ahead of time to make it easier on you after school.  You can simply place most of the ingredients in sealed containers and store them in the fridge until you're ready to use them.
I prefer to buy Fage in the larger containers for this yogurt bar, which I found at my local Target.  Greek yogurt is so versatile and can be a great substitute ingredients in many recipes.  The sky is the limit!
You can use the Fage store locator to find Fage Total 0% near you.