This post is sponsored by Tyson Foods, Inc. All comments and opinions are my own.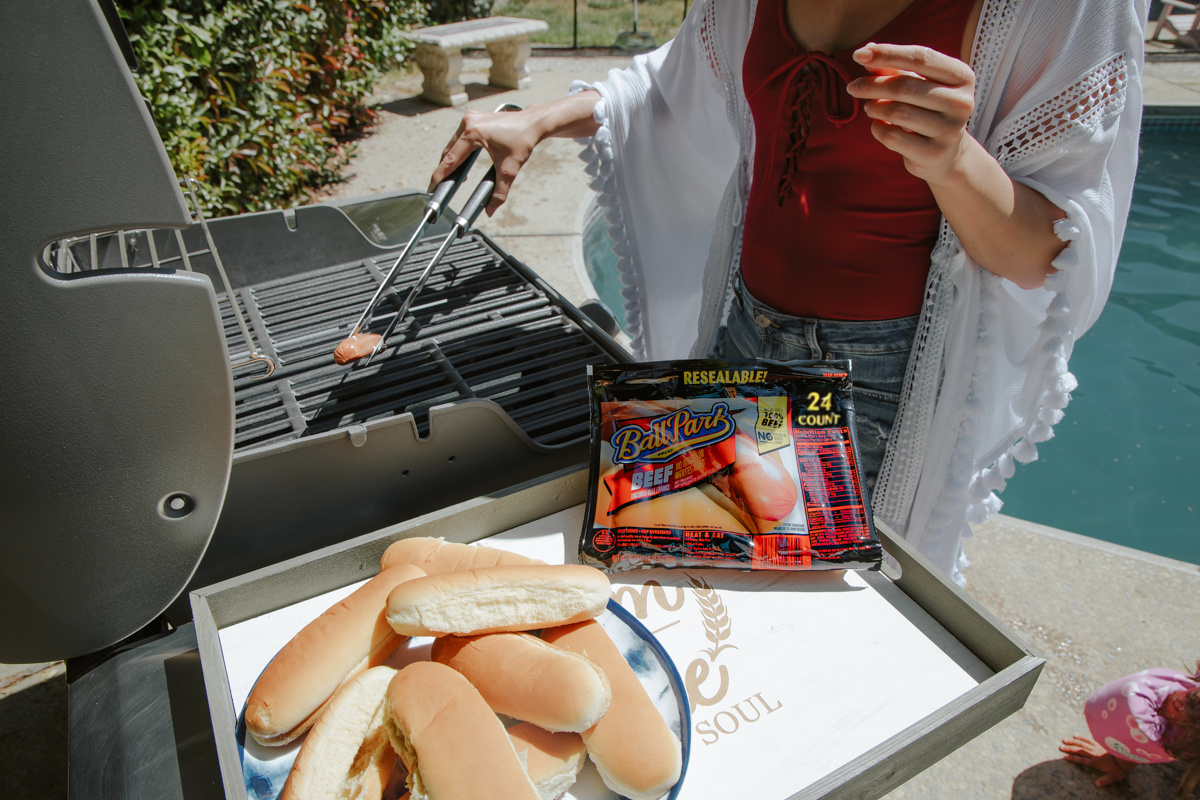 There are so many reasons why I love summertime, but backyard hangs are probably my favorite. There's nothing like having friends over to swim, eat, laugh, make s'mores, and just enjoy each other's company. If you love entertaining (or even if you don't), I'm sure you can appreciate that feeling of having everyone together celebrating everything or nothing at all.
Over the years, I've learned to keep certain bulk foods on-hand for those last-minute gatherings.  Appetizers are always great to have on hand, as well as drinks and s'mores ingredients. As for the main dishes, warehouse club stores like Sam's Club are a great place to stock up on bulk foods like Ball Park® Beef Franks (my fave) and Tyson® Boneless Skinless Chicken Breasts.  Both are perfect for backyard BBQs and are always a hit with adults and kids. You can find the franks in the refrigerated aisle at Sam's Club, and you can find the chicken breasts in the freezer aisle. You can also order online for Club Pickup to save time!
Tips: Keep both the Ball Park Beef Franks and the chicken in the freezer until you're ready to use them. The chicken can be grilled from frozen, too!
How to Pull Together a Last-Minute BBQ Party
If it weren't for the easy preparation I would never get anything done. I have a handful of go-to grill ready foods that require minimal effort or time away from my guests.
Grocery Shopping List
Fresh ciabatta rolls (split)

Avocados

Tomatoes

Mayo

Pesto in a jar

Romaine lettuce

Baby potatoes (the smallest you can find)

Buffalo sauce

Blue cheese

Seedless watermelon

Lemonade mix

Fresh lemons

Condiments: ketchup, mustard, relish, etc.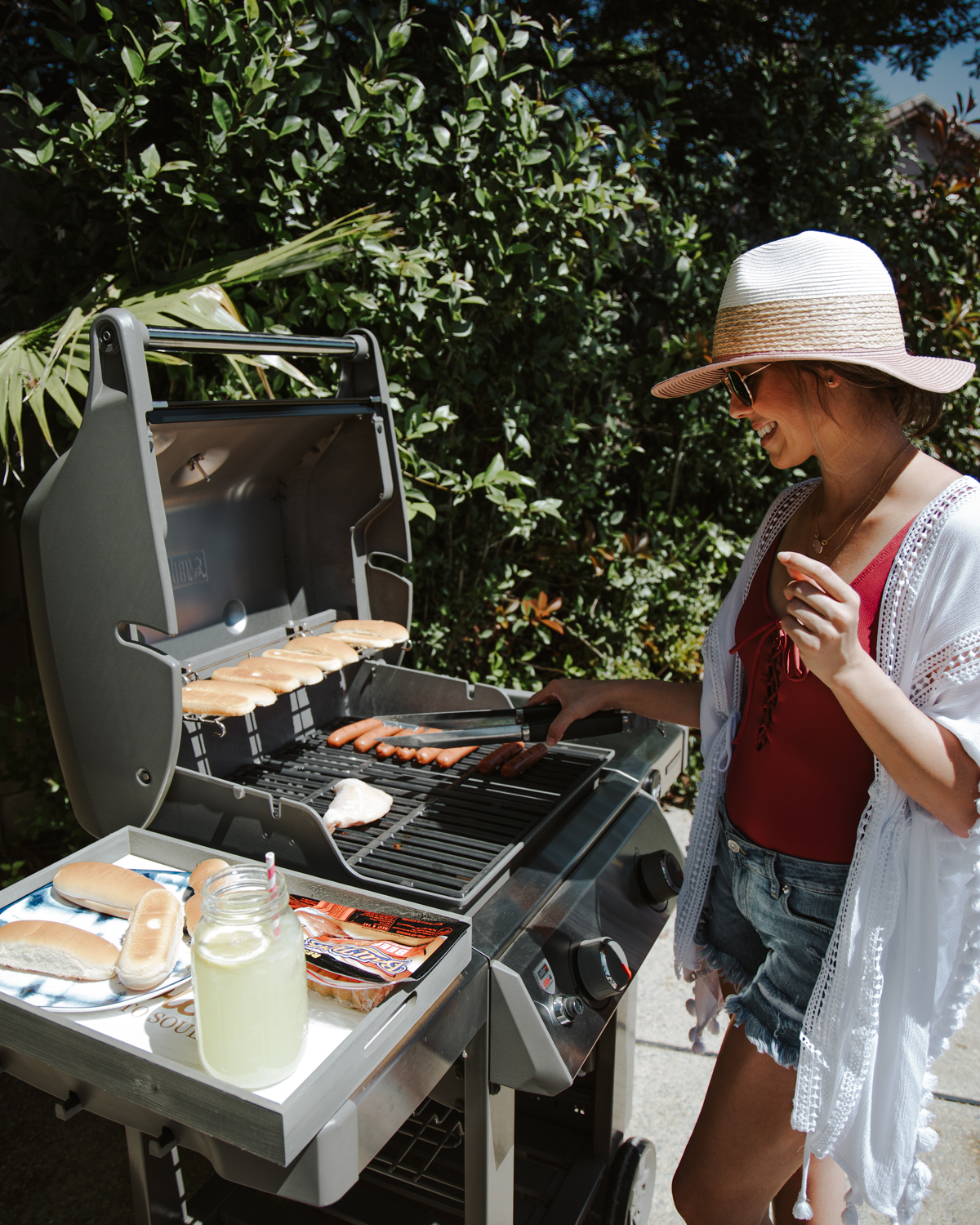 Lunch Option
Hot Dogs with Fresh Watermelon
Hot dogs grill up in a matter of minutes and are one of the easiest lunchtime grilling options. My family loves them, and most party guests do, as well.  Depending on the season, you can find some great seedless watermelon that pairs perfectly with hot dogs. If you don't have access to good watermelon for your backyard party, try going for another seasonal fruit.
I always keep powdered lemonade in my pantry because it makes for the perfect last-minute party drink. Toss in some fresh lemon slices and you have a great (impressive-looking) outdoor beverage.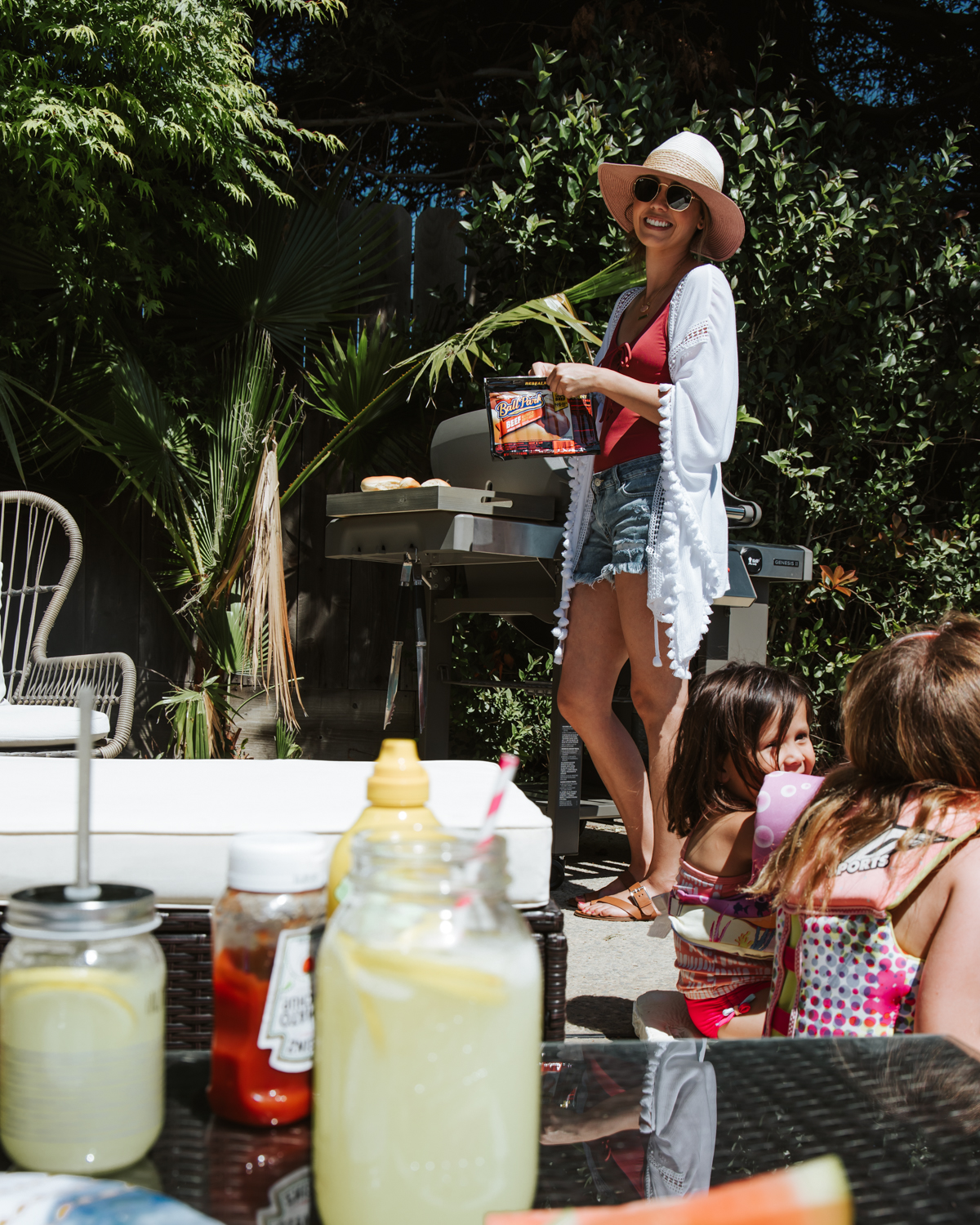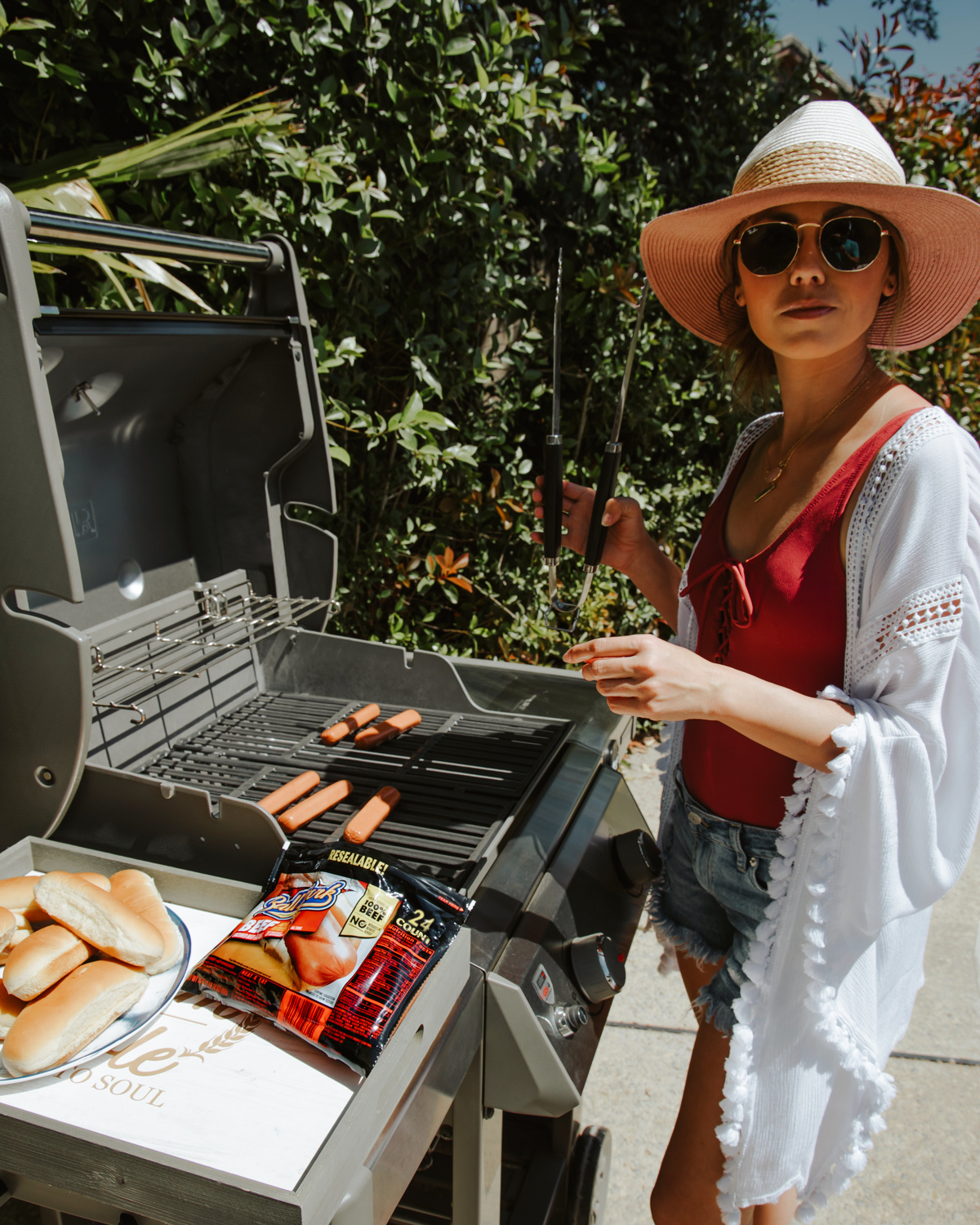 Dinner Option
Pesto Chicken Sandwiches with Sweet Potato Fries
Pesto chicken sandwiches have been one of my go-to dinner recipes since my husband and I first met.  I love a good pesto-mayo and I've found that jarred pesto mixed with mayonnaise is just as good as the homemade stuff.  Grill up some frozen or defrosted Tyson Boneless Skinless Chicken Breasts, slather your ciabatta rolls with pesto-mayo, and place your chicken breast, tomato, avocado slices, and lettuce between the buns and enjoy.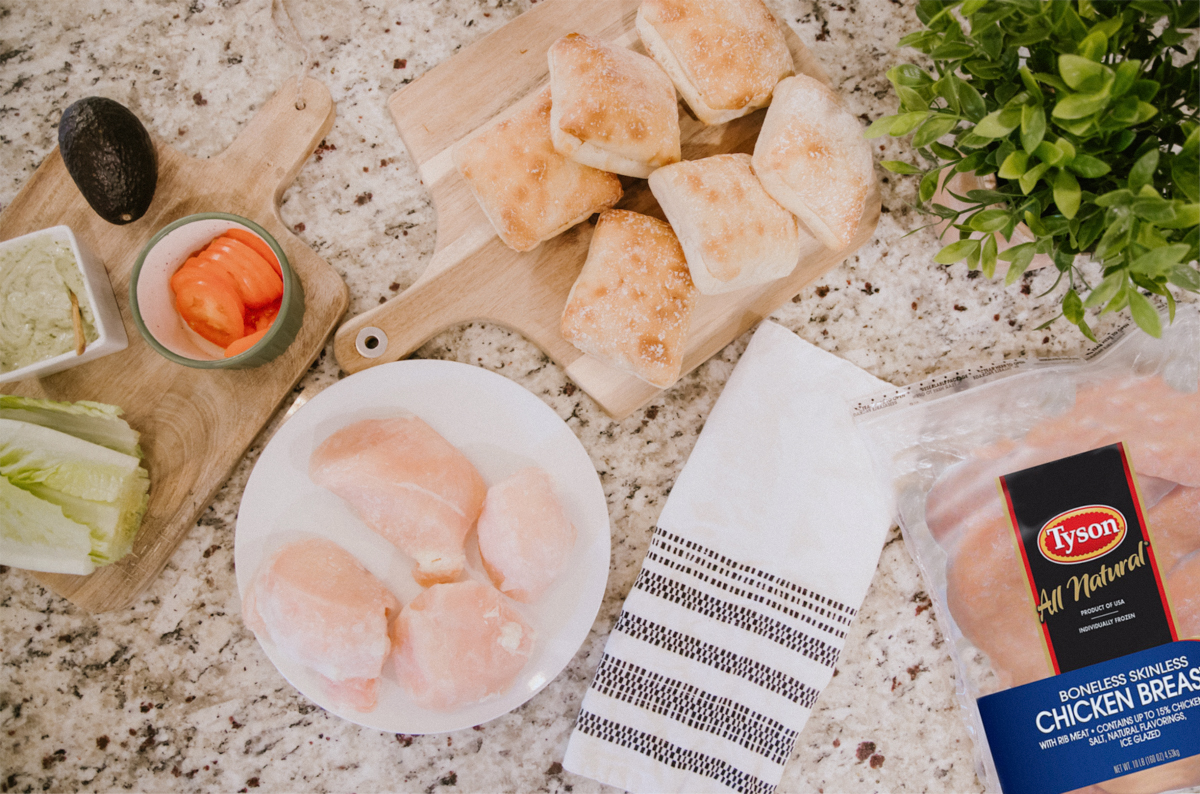 You can purchase frozen sweet potato fries or make your own as a side dish for these delicious sandwiches.  The sweet and salty combination is my favorite and tastes so great on a hot summer evening.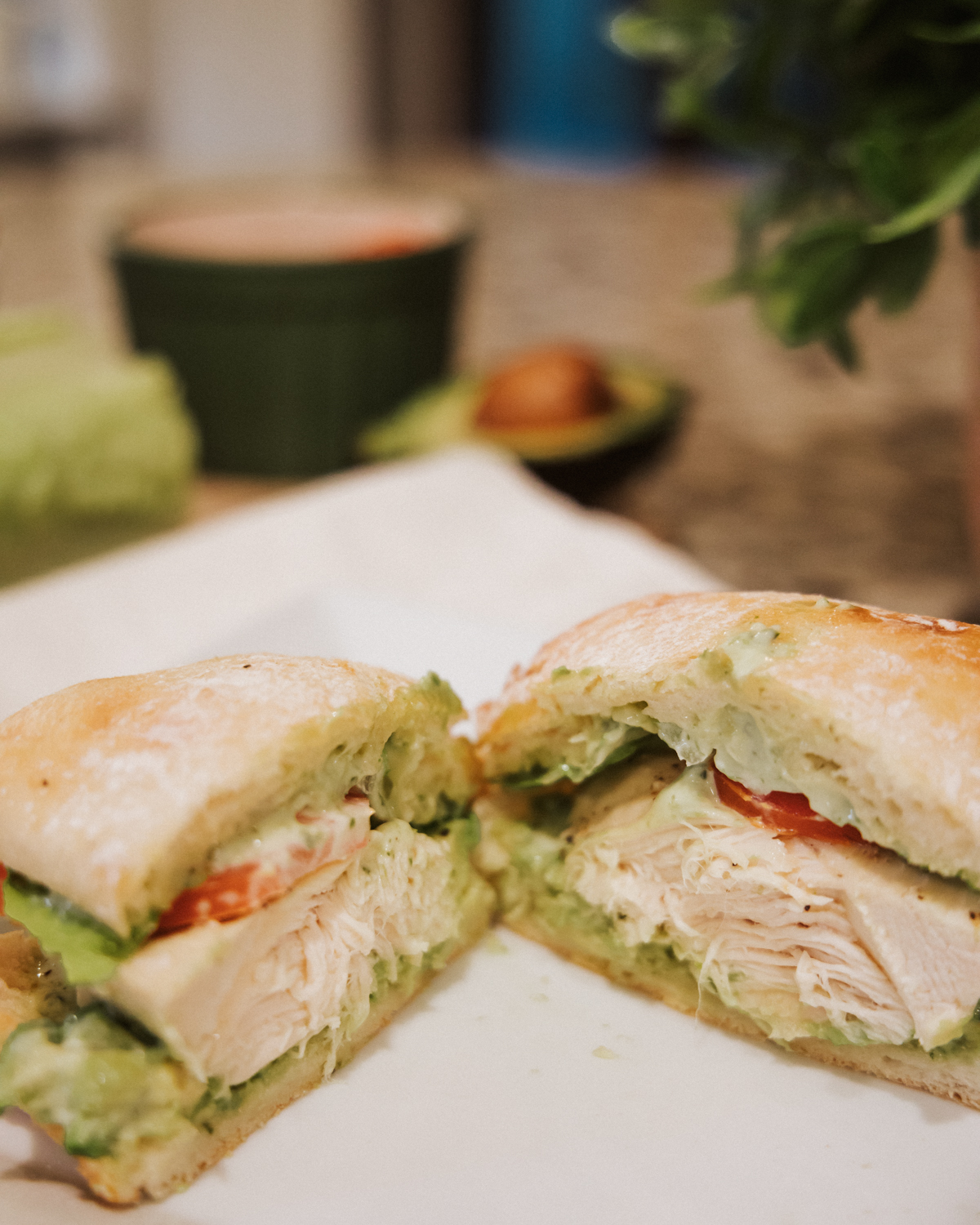 Aside from the food and drinks, having comfy furniture, plenty of shade, and great music makes for a great last-minute backyard BBQ party. Put together a music playlist that keeps guests moving and gives them something to talk about.
The last thing you want to be doing while you're entertaining is spending time away from your guests. By having ready-to-go, easy meal and drink options, you'll have so much more time to spend with your friends and family.
Savings:
Save $1.50 on Ball Park® Beef Franks from 5/8/19 – 6/2/19 at Sam's Club.