I have been using cleaning and dusting solutions and sprays, detergents and dishwasher soaps that are "green" or more natural for the past few years in an effort to do my part for the environment. Now I've tried something that needs no cleaning or dusting solution, but still cleans great! Zabada Living Care products make use of microfibers with their Dust Glove and Dust Marvel to provide excellent dusting without furniture oils or spray polish.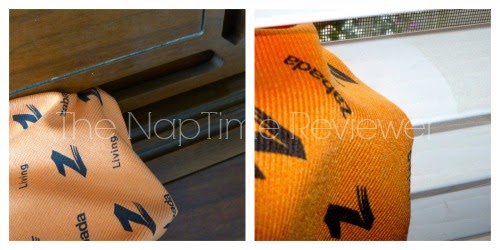 If you use the disposable fluffy dusters or feather dusters, a lot of the dust you pick up falls off the duster, or it seems that you are just moving the dust around. With the Zabada Dust Glove, the fibers really trap and remove the dust. I was amazed at how well it cleaned the television screen with no streaking. It did a terrific job on my wood furniture (and we have tons of dust from recent nearby almond harvesting!) and left no dust behind.
Usually I spend hours spraying my blinds with a cleaner, wiping them down, and then rinsing the cleaning cloth after every few slats. With the Dust Marvel, it only took one swipe and all the dirt was gone! About halfway through the set of blinds I went outside and shook the cloth, then finished the job. The Dust Marvel can be used with water also, but my blinds came out perfectly clean without water. The Dust Marvel is recommended for glass and mirrors too as it does not leave lint or streaks. I chose to use it for my blinds as it was easier to wrap around both sides of the slat.
Health wise, the Dust Glove and Dust Marvel help rid your home of those micro-fine particles that trigger asthma and allergies.
Both the Zabada Dust Glove and Dust Marvel are machine washable in a laundry bag, but should not be rinsed in fabric softener. Yes, these two products are a little pricey ($40 for dust glove and $30 for dust marvel), but Zabada does offer some bundled packages that will save you some money and Zabada products last 2-3 years!
Zabada
offers a variety of great products for kitchen, bathroom and living care, as well as a free laundry bag with purchase of select products.
Zabada is a cleaner, greener way to clean!