How many times have you purchased a product, used it a few times, but don't really like it? I know I have countless skin products and shampoos/conditioners in my bathroom cupboard that are barely used. With the Modere Beauty Box, you can try a sample size before opening the full size product, with the option of returning the full size product if you are not happy with it. And, the samples contain a generous portion – enough to judge if it's going to be a product you like. I hate the "one application" samples other companies send you. How can you decide on a product after one use?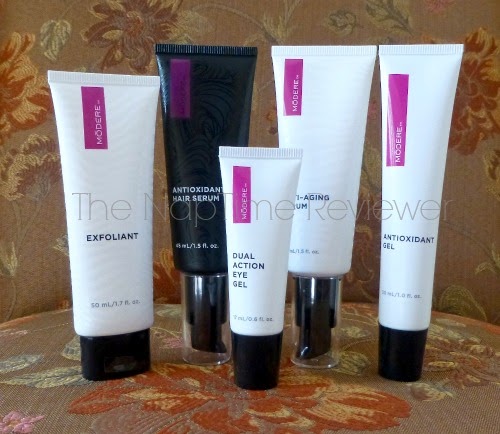 The Modere Beauty Box process is easy to follow: Order your Modere Beauty Box. You then have 7 days to try the four sample sizes (plus a free gift of Dual Action Eye Gel!). You can then keep the Beauty Box and have your card charged for it, or return it with the postage paid return shipping label. If there's only one or two products that you decide to keep, you can still return the rest and will just be charged the list price for those products. The cost of the Modere Beauty Box is $79.99 plus tax, which can save you money as compared to purchasing the products separately. If you decide to return the products, you can still keep the samples and the Dual Action Eye Gel. So really, this is a low risk way to try some great beauty products! Modere also has a great referral program in which you can earn $50 in Modere credit for referring 3 purchasing friends, $50 for another 2 friends, and then another $50 for 1 more referral.
Now, about the products! I absolutely love the exfoliant… great gentle scrub, but leaves your skin feeling super soft. The Anti-Aging Serum is a super silky feeling lotion that is lightweight and glides on. I love that it comes in a tube, yet has a pump applicator. The Antioxidant Gel uses a great vitamin C formula to brighten the skin – great for those dark undereye circles and fine lines. My favorite product in the box was the Antioxidant Hair Serum! I use it on dry hair before using my straightener. It gets rid of the frizz from my curly hair and adds so much shine! It feels silky, just like it does after my hairdresser styles my hair.
Stop wasting money on products you can't sample first. In the end, you will save money with the
Modere Beauty Box
and discover some great products as well!
Modere has a full line of personal care, household care, and health and wellness products.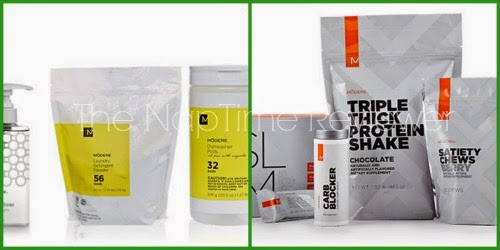 Modere laundry products and Fit Collection products.
Modere will even be carrying a great weight loss meal replacement shake in November that you add to milk or water.
Disclosure: I received sample products from Modere to facilitate my review. Regardless of compensation, I only feature products that I feel are beneficial to my readers. My opinion is never influenced by compensation.