I've been wanting to update my bedroom for quite some time now but I seem to always find myself fixing up the girls' rooms. Between the nursery and turning my three-year old's bedroom into a "big girl room" I've been having a blast, but it's time for me to focus my attention on the master bedroom.
I've been filtering through
Pinterest
in search of sophisticated, lively and trendy master bedroom ideas which gave me a great starting point. I got an idea of the types of bedding I like and some awesome decor ideas. My problem is this – I'm a tightwad! It's been a little difficult to put my ideas into action while sticking to a smaller budget but somehow I've managed to gather some great pieces that work well together.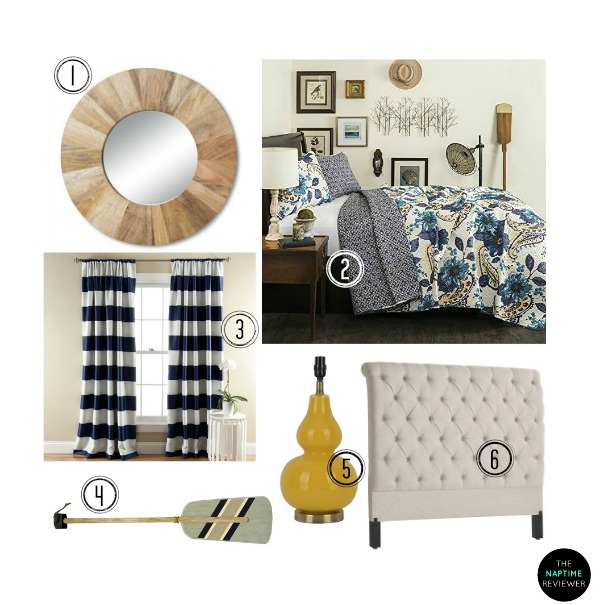 1. Round Wood Mirror – I was on a hunt for something decorative to go above my bed and Pinterest kept pointing me to round mirrors. Or maybe I was just drawn to round mirrors? Either way, I ended up finding this Threshold Wood Mirror from Target for $49.99. As much as I love to see those red clearance tags on my purchases from Target, I went all out and paid full price for this puppy. Shocker!
2. Bedding
– I'm really drawn to the quilts and shams from Pottery Barn but there's no way I will spend $200+ on a quilt and then more for the shams. Call me cheap but I like to stretch a buck as far as possible. I stumbled upon a website called
Lush Decor
that has tons of Pottery Barn-like quilt sets for around $85. I chose the Floral Paisley 3-Piece Quilt Set which worked as my inspiration for the rest of the room. This reversible quilt has a little bit of nautical feel so I ran with that theme.
3. Blackout Curtains
– I have glass french doors in my bedroom with hideous accordion blinds on them. They were on the doors when we moved into the house and they are definitely not what I would've chosen. We've just been settling with them as they do block out the light but it's time for a change. I'm in love with the navy nautical striped blackout curtains from
Lush Decor
($39/pair).
4. Ornamental Paddle – I found this paddle on clearance at Target and originally thought it would be great for the girls' bathroom. I carried it around the store and ended up putting it back since I decided to go in a different direction in the bathroom. Luckily, it's still on the Target website for a discounted price so I swooped it up for just $21.24.
5. Bedside Lamps – I wanted to bring out the yellow in the quilt so I decided on the Threshold Double Goard Large lamps ($44.99) from Target. I still need to choose a lamp shade but I'm thinking I'll go with something neutral and earthy.
6. Headboard – I originally wanted to go with a cloth headboard in a neutral color but ended up going with an espresso colored wooden headboard. While I chose the wooden headboard, I still love the cloth one which is why I kept it on my collage. The one pictured above is the Audrey Queen Headboard from Pier 1 Imports and is on sale for about $500.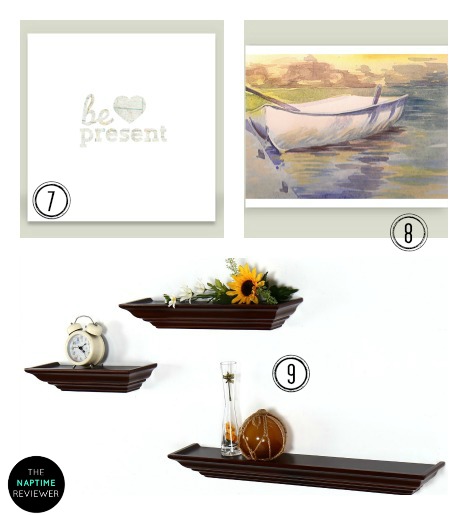 7. Typography Print-
– Believe it or not I actually found this wall print from BoomBoomPrints.com which is geared towards children. This
Be Present square print
has a map background that I fell in love with. You can order the print by itself for $19.99 (on regular matte photo paper) or you can order the framed version for about $20 more.
8. Nautical Print
– This is another print I found from
BoomBoomPrints.com
by Katie McCollow. The print itself is $19.99 and comes on matte photo paper. I plan to put this one on a mat and lean in on a floating shelf on the wall. I do wish I had the option of ordering these prints on thicker paper or a mat. I personally feel that $19.99 is a bit steep for a print I feel like I could have just printed myself but that's okay. I saved everywhere else so I can spend $20 on a print.
9. Floating Shelves – I actually already had three brown wood wall shelves that I found at Marshall's years ago for about $14.99 each. I plan to put these shelves above my computer desk to display the nautical print (above) and some other fun decor.
Lush Decor was kind enough to offer to sponsor a giveaway for one lucky reader to win a $200 Gift Card for a one time use at LushDecor.com. Enter using the Rafflecopter form below. We will choose our winner after 1/15/15. Good luck!
Don't forget to use promo code NAPTIME1 to get 10% off your entire order at lushdecor.com!