My favorite pastime is traveling, and I've gotten pretty good at packing light. Whether you are going on a ski/snowboard vacation in the snow or the tropical beaches of the Bahamas, here's a few products that I think are must-haves and won't take up a lot of space in your luggage!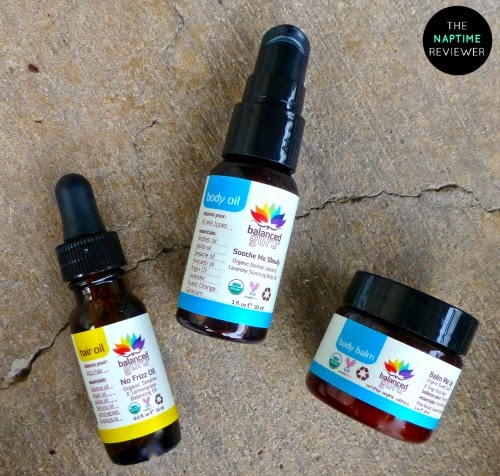 Why is it that with wet winter weather comes dry, cracked skin and frizzy dry hair? There's 3 ways to tackle these problems from balanced guru products. Have spots on your skin that are extra dry? Try Balm Me Up for some extra moisture. Made with moistening ingredients like coconut oil and shea butter, it's great for places like dry elbows, feet and knees. I have been using it as a lip balm and I love it!

Have curly hair that turns into a frizz ball once you step out into the rain or fog? No Frizz Oil creates an awesome moisture barrier to ward off frizz and unwanted curls, while keeping your hair soft and super shiny. I use it before straightening and loved the shine it gave me. No Frizz Oil is very lightweight, so if you only wash your hair every other day, you won't have a greasy, dirty feeling on that in between day.

Need some good skin hydration, muscle relaxation, and aromatherapy for your senses? Soothe Me Slowly gives your skin great moisture and muscles a nice relaxed feeling, all while giving you an incredible fragrance to lift your mood. I love the smell of lavender, which really stands out in Soothe Me Slowly. It also contains rosemary and geranium oils, plus so many others that blend to feel so silky and non-greasy on your skin. Put this on after a bath or shower and you will feel like you just had a day at the spa!

Visit balanced guru for their complete line of products that are always natural and certified organic.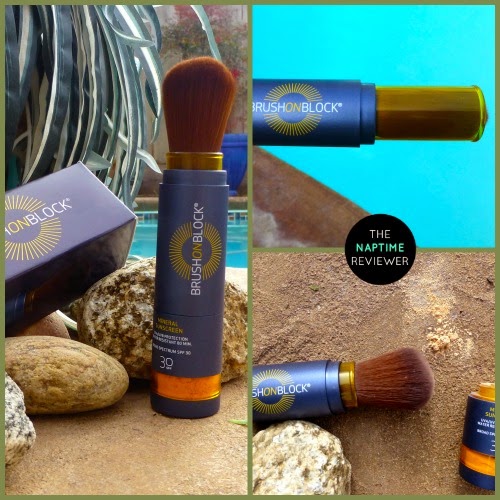 Tired of sticky lotion, stick or spray on sunscreens? Brush On Block Broad Spectrum SPF 30 mineral powder sunscreen from Susan Posnick Cosmetics gives you another option. With their special brush and SPF 30 mineral powder system, you can apply sunscreen easily. It can be used under or over foundation with its invisible coverage. The small tube with built-in brush and powder makes it effortless to apply sunscreen frequently without a mess. All you do is lower the plastic tube down from the brush, turn the mineral powder cartridge slightly, shake it lightly and the powder will come into the self-dispensing brush. For smaller areas you can leave the brush sleeve about halfway up. Super easy! Brush On Blocks' mineral powder is a nice neutral color that blends completely and feels nice and silky. At only about 5 or 6 inches in length, Brush On Block is perfect for your purse, beach bag or backpack – no worries about spilling or melting in the heat! It's also water and sweat resistant. Like all forms of sunscreen, Brush On Block should be reapplied after towel drying following 80 minutes of swimming or sweating, or at least every 2 hours. It's safe for acne prone or sensitive skin, and also safe to use on children 6 months of age or older. Take the leap to no mess sunscreen with Brush On Block!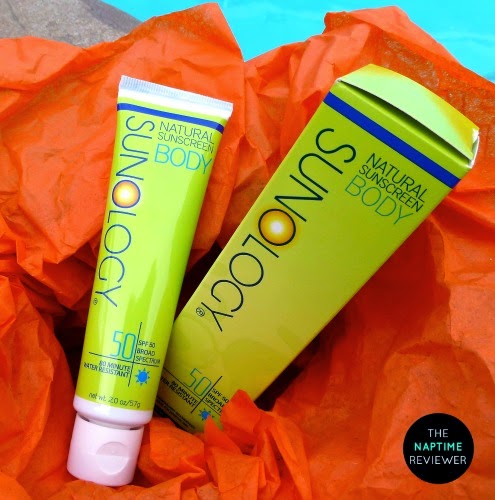 Love the sun, but hate the feeling of sunburns and dry itchy skin? Try Sunology SPF 50 Broad Spectrum Sunscreen for Body, as well as Sunology for Face. Sunology is made with natural active ingredients and no man made chemicals, great for sensitive skin (I'm super sensitive to sunscreens and after a week of use on my face I've had no breakouts!) The 2 ounce size of this Sunology tube is perfect for carry-on luggage where liquids must be 3 ounces or under. Remember, being in the snow on a sunny day can damage and burn your skin severely. Be mindful of this and reapply sunscreen every 2 hours while skiing, sledding or snowboarding. Of course, sunscreen should be worn year round for adequate sun protection. That sun-kissed "glow" that we love so much will most likely end in wrinkles, skin spots and even skin cancers if we don't take good care of our skin when we can. Sunology has separate formulas for adult skin and face, as well as Sunology for kids, all in SPF 50. It has a nice scent and goes on like a silky lotion. At $14.99, this is money well spent for skin safety and comparable to other major sunscreen brands. For ordering and product information, visit Sunology.com. Your skin will thank you!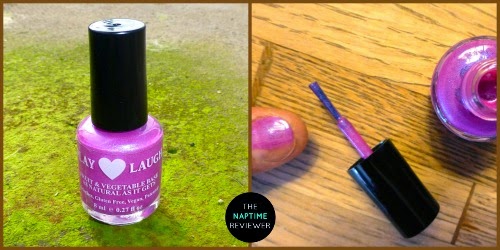 Need a quick polish change, but hate carrying polish remover with you on trips? Play Love Laugh Natural Peel-Off Nail Polish from Hugo Naturals is perfect! It dries quickly and peels off without any harsh chemical removers. Play Love Laugh is made from only food grade ingredients. This is perfect for the little princesses in your life, expecting moms, and for people with sensitive nails. With no odor and made from a non-toxic fruit and vegetable base, Play Love Laugh can't get any more natural. It's even safe for pets!

I loved the "Royal Princess" color that I sampled. The instructions called for applying 2 coats of polish, but I found that one coat covered perfectly and was extremely easy to peel off, yet stayed on perfectly through my everyday household chores and a soak in the tub.

Play Love Laugh carries all the in style summery colors too – several beautiful teals, several shades of purple, luscious pinks, green, blue, orange and yellow! Tweens will go wild for these fun colors!

For more pure and simple quality products, visit Hugo Naturals for their complete line of skin, nail, hair, bath and body items, as well as their Baby Hugo Naturals lines.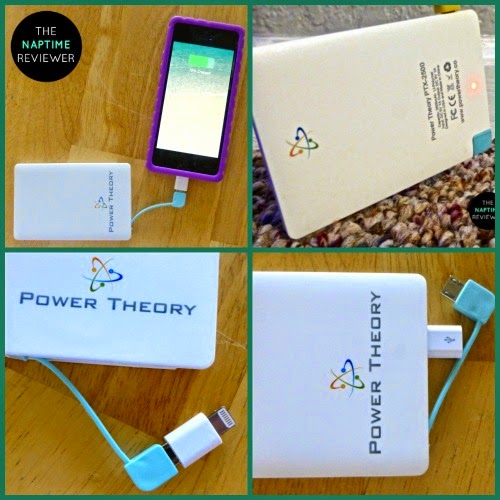 When I'm traveling, I tend to take a lot of pictures and video with my cell phone. More times than not, there's no place to easily charge my phone or I left the charger cord and adapter at my hotel. With Power Theory 2500 MaH Credit Card sized travel charger there's no need to bring extra cords and plugs with you! At only 2.1 ounces, Power Theory is the perfect size for your wallet or purse, yet has plenty of power to easily charge a cell phone or small Go Pro type video camera. The selling point for me is the dual charging cable – a micro USB with a lightning adapter for iPhone/iPad/iPod. As you can see from the picture, the lightning adapter easily slides right over the micro USB charger.

I have actually charged my iPhone 3 times so far from about 15-20% to 100%, and the Power Theory charger still has power left in it. This is a must-have item for my upcoming travels! At only $16.95 right now on Amazon.com, Power Theory is worth so much more when you think about those priceless vacation pictures you will lose by having a dead battery on your device!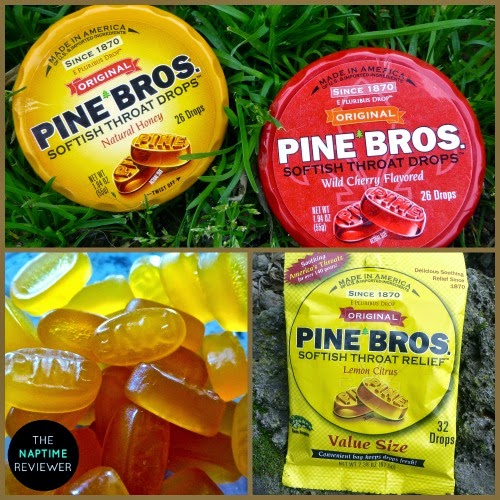 I'm not sure if it's the recirculated air or those little blowers above your seat that direct the air down towards you, but either way when flying I end up with a dry feeling throat. Pine Bros. Softish Throat Relief Drops are so good at keeping your throat feeling hydrated, soothing sore throats, or calming coughs. These little gems are semi-soft, kind of like a hard gummy candy, but have such a soothing quality to them. The "puck" container is the perfect size to keep in your backpack or purse for on the plane use. Pine Bros. Softish Throat Drops come in Natural Honey, Wild Cherry, Lemon Citrus and Licorice flavors. All 4 flavors come in the value size package, while pucks come in only the Natural Honey and Wild Cherry flavors. I found myself eating the Wild Cherry drops like candy on my last trip! Pine Bros. throat drops are made with plant glycerin for soothing and gum acacia for its' healing qualities. It's a great blend that you will love whether suffering from a sore throat or just needing some throat hydration. At less than $3 a puck, I think these are a bargain! Take a puck on your next trip! Visit Pine Bros. for pricing and ordering information. You can also find Pine Bros. at many local retailers such as Walgreens, Walmart and Safeway, just to name a few.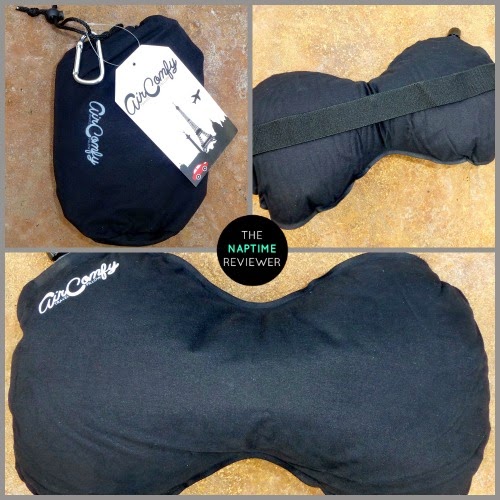 Taking a travel pillow along on a trip can be very cumbersome, but not with the AirComfy Travel Pillow. Its' unique design serves a dual purpose, that being neck support or lumbar support! Being inflatable, it's great to throw in your tote bag or backpack for easy accessibility while on a plane, train or bus. I love the handy carrying bag with carabiner clip. Another plus is the elastic strap which will keep the AirComfy pillow in place on your headrest or seat back.

I have purchased an inflatable travel pillow in the past. The problems with it were it was hard to blow up, hard to deflate (had to pinch the valve to let the air out), it was made of simple plastic with a separate slip on cover and it was the traditional travel pillow U-shape. It also had no clip to keep it on the side of my backpack. The AirComfy Travel Pillow tackled all those problems, with the added benefit of the elastic strap. I think the price of $19.99 is very fair after buying several travel pillows that failed my tests. Visit the AirComfy website for all its tremendous benefits, with easy ordering on Amazon.com.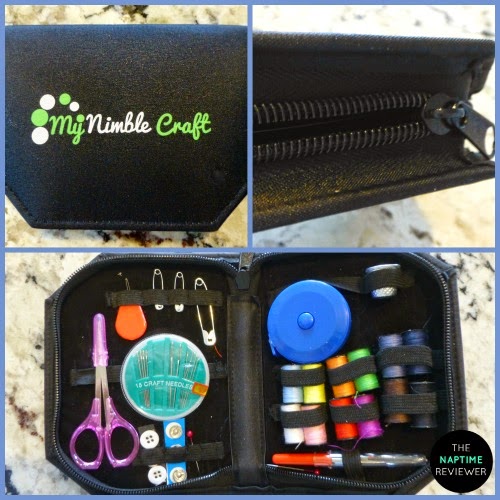 When I travel, I always take a safety pin and needle and thread along. One problem I've run into is that by the time I find out that I'm missing a button, it's nowhere to be found. With this terrific little travel sewing kit by My Nimble Craft, you have everything you need to repair rips, hem pants or skirts, sew on a button, clip loose threads, or even repair your childs' injured stuffed animal! The My Nimble Craft Travel Sewing Kit has everything you need for any fashion emergency! It even has a measuring tape, snaps and fasteners, 12 different colors of thread, 15 needles of different size, scissors, and a thimble! I love the zip close travel bag with it's heavy duty zipper. I found that all items in this kit were of good weight and quality.

Weighing in at only 4.8 ounces, you won't even notice it in your luggage, and it's small enough to take on day trips in a tote bag. Avert a fashion catastrophe with this travel sewing kit by My Nimble Craft, available on Amazon.com!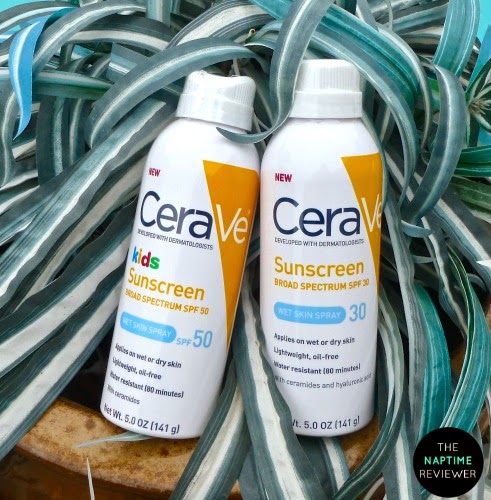 Do you prefer a spray sunscreen for you and your children? CeraVe Broad Spectrum SPF 30 adult sunscreen, and SPF 50 kids sunscreen give you a lightweight, oil free and water resistant barrier that can be applied to wet or dry skin. I think the wet or dry feature is awesome since we all know kids can't wait even a minute to get back onto the beach or into the pool.

CeraVe contains ceramides that help repair and restore your skins' protective barrier. Remember, spending time in the sun does increase our odds of getting some type of skin cancer. We must use adequate protection, including limiting time in the sun, wearing hats and protective clothing, wearing sunglasses and constant use of sunscreens. Winter is no time to slack on sunscreen use, so apply daily to all exposed areas!
Thinking about Mexico for your winter vacation? The warm weather and glorious beaches are pretty enticing as a lot of us are being hit by harsh winter storms, endless foggy days and lots of rain. Check out Explorer's Guides Playa del Carmen, Tulum and the Riviera Maya edition. It contains tons of information on the best places to stay, visit and shop. I love that it has information on out of the way places for shopping, eating and playing that you would otherwise not know about. It also contains tips for tourists that are invaluable. I also was thrilled to see an English to Spanish glossary that would be so helpful in understanding the locals! If you're looking for what events are happening when, this is the book for you! Reading the Explorer's Guides to Playa del Carmen will give you insight to the best hidden beaches, local swimming lagoons and even taco bars!

For this book, travel information for many other areas around the world, or just general travel information, visit Countryman Press.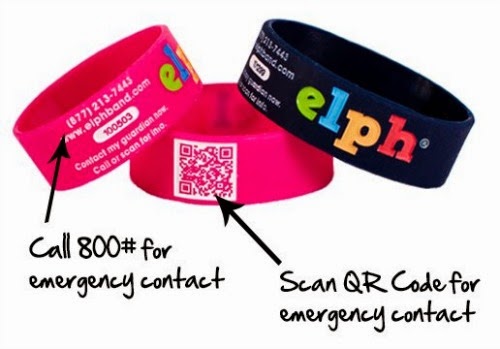 Last, but definitely not least, is the ELPH identification band. The ELPH identification band is #1 in importance on my must-have list. There's nothing scarier than not being able to find your child in a crowded area or store. We've all had that instant panic attack when our kids get out of our field of vision, even the most responsible and careful parents and guardians. If for some unforeseen reason your child does get lost, the ELPH band is a highly visible silicone band that has instructions printed directly on the band. The person finding your child can either dial the 800 number or scan the QR code on the identification band for immediate tracking of the childs' guardians/emergency contact. The child's name or personal information are not on the band, thus does not show it when not needed. The ELPH is not just for children; it also comes in adult size. After reading about a senior gentleman that was found wandering in our area, the ELPH band would have been invaluable in locating his family.

ELPH comes in 3 colors, pink, purple and black, and is very modern and stylish! Find more information on purchasing, as well as how to register an ELPH identification band, on the ELPH Company website.

Photo credit: ELPH
I received one or more sample products mentioned from Balanced Guru, CeraVe, ELPH, The Countryman Press, Pine Bros, Sunology, Brush On Block and Tomoson. Regardless, I only recommend products or services I use personally and believe will be good for my readers.