Preggie Pops, the all-natural morning sickness remedy for pregnant women, is now available at a favorite nationwide retailer – Target!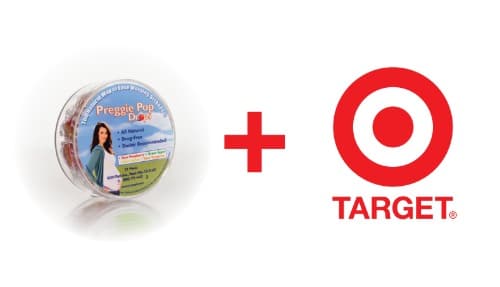 Nausea associated with pregnancy is a very common phenomenon occurring in up to 90% of pregnancies. Developed and recommended by healthcare professionals, Preggie Pops products are specially formulated with essential oils, aromatherapy, and natural ingredients clinically proven to help fight nausea and morning sickness. Available in yummy flavors, they are small enough to keep in your purse and handy for those times you need them most! They are also a great addition to your labor bag to help with dry mouth and provide a nice energy boost.
Preggie Pop Drops come in three decadent flavors: sour raspberry, sour lemon, and green apple to relieve your worst nausea pains and start at $ 5.50. Preggie Naturals Chews is the newest product to the Three Lollies line – think Now N' Laters meet morning sickness! Try the peppermint, raspberry, ginger, or green apple flavors to soothe your unsettled tummy starting at $4.95.
Target is stocking Preggie Pop Drops and Preggie Naturals Chews in the new Prenatal/Maternal Centers that are being unveiled nationwide this week, and also online at
http://www.target.com/mom
. The new centers cater to pregnant women and new moms and include well-known and trusted brands that meet her personal care, healthcare and nutrition needs in one destination.
GIVEAWAY
We're giving away a Preggie Pops Prize Pack to one lucky winner. Use the Rafflecopter form below to enter to win a 3-month supply of Preggie Pops. We will choose one winner after 5/5/15. Good luck!