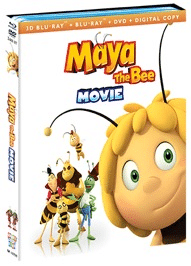 Maya The Bee is coming to DVD and Blu-ray 3D Combo Pack Tomorrow! Featuring an All-Star Voice Cast such as Coco Jack Gillies, Academy Award® Nominee Jacki Weaver, Miriam Margolyes, Richard Roxburgh, Noah Taylor, Kodi Smit-McPhee and Justine Clarke, this movie is full of love, kindness and adventure.


Freshly hatched bee Maya is a little whirlwind and simply won't follow the rules of the hive. One of these rules, of course, is not to trust other bugs, especially the hornets that live beyond the meadow. But sweet Maya can't help but make friends with all kinds of other bugs, including a violin-playing grasshopper, a dung beetle and even a young hornet named Sting. When the Royal Jelly is stolen, the hornets are the prime suspects and Maya is thought to be their accomplice. Now, it's up to Maya and all of her new friends to prove her innocence and find the missing Royal Jelly!
Kids and parents across North America will soon be enamored by the world famous little bee named Maya and her insect friends when the international smash hit "MAYA THE BEE MOVIE" makes its buzz-worthy debut on DVD and on two-disc BLU-RAY™ 3D Combo Pack (Blu-ray 3D and 2D, DVD and digital) from Shout! Factory Kids on May 19, 2015. The Blu-ray 3D Combo Pack allows viewers to enjoy "MAYA THE BEE MOVIE" on the platform of their choice and includes movie presentation on Blu-ray 3D and 2D, DVD and a digital copy of the movie.
Already a great box office success in much of the world, "MAYA THE BEE MOVIE," based on the well-known children's novel and popular animated series in Europe, Australia and Asia, offers an immersive cinematic adventure into a spectacular macroscopic world. This highly anticipated animated feature brings to life an enchanting story of a little bee named Maya and her exciting adventure of self-discovery and fantastical fun. A must-have for fans of all ages, "MAYA THE BEE MOVIE" is an instant classic that delivers wholesome family entertainment— emphasizing the importance of friendship, freedom and courage.
Directed by Alexs Stadermann (Bambi II) and produced by Studio 100 Media and Buzz Studios in association with Flying Bark Productions, "MAYA THE BEE MOVIE" features the acclaimed voice talent of Coco Jack Gillies, Academy Award® nominee Jacki Weaver (Animal Kingdom, Silver Linings Playbook), Miriam Margolyes (Harry Potter, Babe), Richard Roxburgh (Mission: Impossible II), Noah Taylor (Game of Thrones, Charlie and the Chocolate Factory), Kodi Smit-McPhee (ParaNorman, Rise of the Planet of the Apes) and Justine Clarke (Home and Away).
"MAYA THE BEE MOVIE" Synopsis
Maya is a little bee with a big heart. She dreams of an exciting life of freedom, fun and adventure – the world is simply far too interesting to stay inside a hive! Her funny attempts to fit in bring her into trouble with the Queen's narrow-minded royal advisor, Buzzlina. With her best friend Willy, Maya buzzes out into the meadow on an exhilarating adventure of self-discovery.
While most bees believe that other insects should be feared, Maya can't help but make friends with Flip the charismatic and eccentric grasshopper, Kurt the dung beetle and even Sting, a young hornet. But when the Queen's royal jelly is stolen, it will take Maya and all of her bug buddies to figure out who did it and how to save the day!
One of the best-known and beloved children's brands of all-time, the stories of Maya The Bee have been passed down among generations of families for years. Originally a German children's novel by Waldemar Bonsels, The Adventures of Maya the Bee was published over a hundred years ago in 1912. Since the original publishing, the book has been translated into many other languages and enjoyed by children all over the world. In addition to the book, Maya The Bee is also a comic book series, appeared in various iterations as animated series and now a major animated feature film.
My Thoughts – This movie is so cute and a nice change from some of the other movies we've been watching. It reminds me a little of James and the Giant Peach and Alice in Wonderland with the cute little bug characters and their accents. The movie kept my three-year old's attention because it's full of songs, colors and adventure. It's definitely a keeper and one we will be watching over and over again.
GIVEAWAY
We're giving you the chance to win a copy of Maya the Bee and an adorable Maya plush doll. Enter using the Rafflecopter form below. We will choose one winner after 5/27/15. Good luck!