A while back I received a package from a brand call Play Again Now. Not knowing much about the brand or the product, I decided to do a little research before I used it. Before I had a chance to even type the brand name in on the computer, my husband snagged the bottle. Turns out, he's been using it since the day we got it and LOVES it.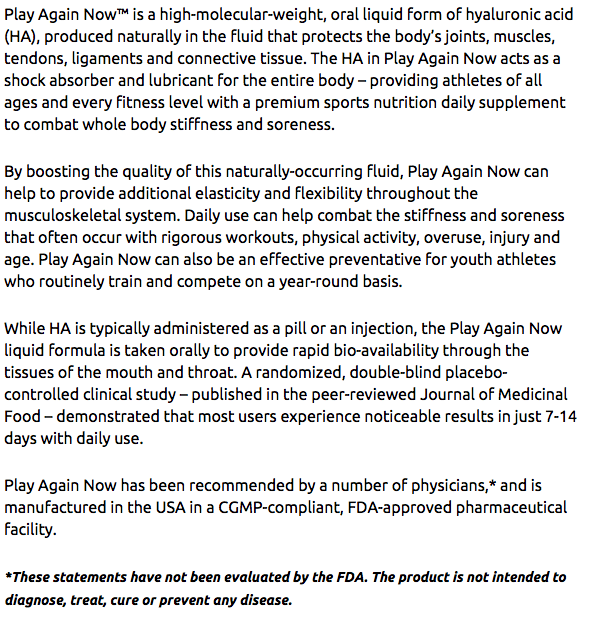 The first thing I asked my husband was "so, have you noticed a difference since you started using Play Again Now?" He takes a dose of Play Again Now after each daily bike ride, which is anywhere from 30 miles to 70+ miles. I never hear him complain of stiffness or soreness but he did mention that "he assumes it's working because he's not stiff or sore." That's good enough for me!
You can read more about the science of HA and MSM on the Play Again Now website (
www.playagainnow.com
). Each bottle is $49.95 and says it contains 47 tablespoons. It's recommended that you take anywhere from 1 to 3 tablespoons daily based on your body weight and an increased amount during the loading phase which is 14 days. So, you really need one bottle for the 14-day loading phase and one bottle per month after that.
The costs can definitely add up but if it works, it's money well spent, in my opinion. Play Again Now has a monthly autoship program to make things easier, in case you're the forgetful type. I'm all about autoshipments!
Have you tried any Hyaluronic Acid supplements like Play Again Now? I'd love to hear your thoughts!