Prior to having children, pelvic organ prolapse was something that I was completely unfamiliar with. Two kids later and I'm dealing with a rectocele (rectum) and a cystocele (bladder). Sorry men, this might be TMI for you. Thankfully, I've found a few ways to manage these issues with the help of a some exercise and supplements.
Thanks to Lovebug Probiotics for making this discussion possible.
Types of Pelvic Organ Prolapse
According to WebMD and my doctor, many women will have some kind of pelvic organ prolapse. It can be uncomfortable or painful. But it isn't usually a big health problem. It doesn't always get worse. And in some women, it can get better with time.
More than one pelvic organ can prolapse at the same time. Organs that can be involved when you have pelvic prolapse include the:
Bladder
Urethra
Uterus
Vagina
Small Bowel
Rectum
A rectocele occurs when the tissues and muscles that hold the end of the large intestine (rectum) in place are stretched or weakened. This can allow the rectum to move from its natural position and press against the back wall of the vagina. Sometimes the tissues separating the two are so weak that the rectum bulges into the back wall of the vagina. (source: WebMD)

A bladder prolapse (cystocele) occurs when the tissues and muscles that hold the bladder in place are stretched or weakened. This causes the bladder to move from its normal position and press against the wall of the vagina, forming a bulge. (source: WebMD)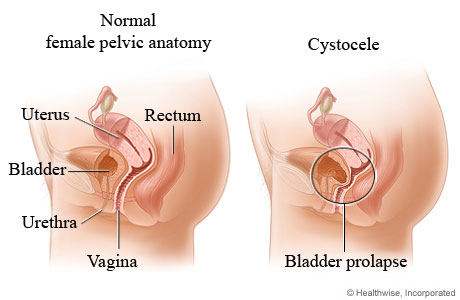 Pelvic organ prolapse is extremely uncomfortable I have found a few ways to manage it and even improve the feeling of pressure down there.
Kegel Exercises – daily Kegels (as recommended by my doctor) help to strengthen the muscles and ligaments of the pelvis.
Drink Lots of Fluids – increasing my fluids helps gets things flowing better.
High Fiber Foods – Eating high fiber foods in conjunction with the increased fluids is a great way to prevent constipation.
Daily Probiotics – Keeping up on my daily Lovebug Probiotics helps improved my digestive health and keeps me from being constipated. The pills are easy to swallow and have no funny aftertaste. Probiotics help fill your gut with gut-friendly bacteria, which it might be lacking.
About Lovebug Probiotics – Here's The Skinny Dietary Supplement
Here's The Skinny Can Help With The Following Issues:
Digestion and Metabolism
Gut bacteria don't just aid in digestion, they actually play a critical role in our metabolism. They influence the way we store fat, regulate glucose, express metabolism genes and they can even regulate our appetite. Groundbreaking science is indicating that the balance of gut bacteria might be one of the biggest, if not the biggest, factor in controlling appetite, metabolic health and weight. In a 2013 study published in Science, researchers transferred the gut bacteria from an obese human twin and her slender human twin sister to two germ free mice, respectively. Despite eating an identical diet, the mouse with gut bacteria of the fat twin got fat, and the mouse with the bacteria from the lean twin stayed slim. Each Here's the Skinny tablet comes with 10 Billion live cultures of the good guys to balance out your gut bacteria.*
Candida
Candida is a yeast fungus. A staggering amount of people living in the United States, who not only eat the Standard American Diet, but who are also overprescribed antibiotics, corticosteroids, and oral contraception experience an overgrowth of this naturally occurring yeast. Unfortunately, candida yeast thrives on sugar, which, as we all know, is abundant in the modern American diet. A balanced gut filled with good bacteria can help to keep this yeast in under control.*
Irritable Bowel Syndrome and Inflammatory Bowel Disease
IBS can cause nausea, gas, bloating, or constipation. Studies have shown that taking probiotics with Bifidobacterium and Lactobacillus can help restore depleted good bacteria and often help alleviate symptoms of IBS. The two most common forms of IBD are the autoimmune conditions ulcerative colitis and Crohn's disease. Recently, The World Gastroenterology Organization, the authority on gut diseases, published a document outlining the use of probiotics in clinical use. The suspicion is that probiotics may have beneficial effects on these debilitating conditions.
Diarrhea
You can get traveler's diarrhea with or without having to suffer through an airline safety video these days in the form of viral or bacterial gastroenteritis. Diarrhea is the gut's way of forcefully expelling an offending pathogen, but viral gastroenteritis is often treated with antibiotics, which kills all bacteria, good or bad, in a "scorched-earth," take-no-prisoners style. This weakens the body's immunity and eliminates the good bacteria which are meant to help us fight off said pathogens. Another extremely prevalent cause of diarrhea is lactose and gluten intolerance. Lactose and gluten sensitivity symptoms may be lessened by taking probiotics like those in Here's the Skinny.*
Constipation
Constipation is astonishingly common in the United States. People's first instinct is to take laxatives, but a combination of natural fiber and a probiotic containing Bifidobacterium such as those in Here's the Skinny can be a much better solution. Taking LoveBug's probiotics can also help treat related digestive problems such as bloating, heartburn and excessive gas. *
Leaky Gut
Leaky Gut Syndrome is just what it sounds like. The lack of good bacteria, that should form a line of defense in your gut, cause the walls of your intestines to become excessively permeable. This, in turn, allows undigested food particles and toxins to be released into your bloodstream and come into contact with all the organs in your body. Leaky Gut is often the insidious cause of autoimmune, reproductive and dermatological issues in addition to digestive ones.
Lovebug Probiotics now has a subscription program that offers free shipping when you sign up to be a Lovebug Loyalist.
Get 20% off your Lovebug Probiotics order with code newyear20.
Pelvic organ prolapse is not a topic that is covered much amongst my friends, but I would love to hear more about your experiences with this issue. Feel free to join our private
Facebook discussion
or leave a comment below.


Learn more about Here's The Skinny here. This article was made possible by Lovebug Probiotics. Thanks for taking the time to learn more about our sponsors and their awesome products.