The FitBit is one of the most popular sleep and activity trackers on the market right now. After hearing so much about them, I ran out and bought a one because I was determined to show my husband how little I slept each night. Much to my surprise, I learned I was getting about six hours of sleep on average – even with three baby feedings each night. I also learned how that I needed to get moving more.
Accessorize Your FitBit
Now that the FitBit was going to be part of my daily outfit, I needed to pretty it up a bit. You can easily swap out your band colors to match your wardrobe but the bands are typically pretty plain. Since the FitBit is pretty much a permanent fixture on people's wrists, it only makes sense to accessorize them to look like jewelry. This is where Carolyn Pollack comes in.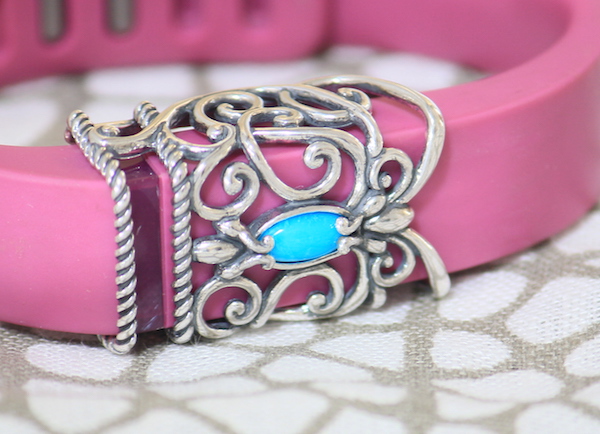 Carolyn Pollack sells beautiful boho-style silver FitBit charms embellished with real stones like sleeping beauty turquoise and silver. Celebrity fans of Carolyn Pollack and American West jewelry include Maria Menounos, Eva Longoria, and Miranda Lambert.
Each FitBit charm slides onto the band easily and feels very comfortable to wear. Like a piece of jewelry, you definitely notice it's there, but they aren't heavy or bulky like you might expect. The charm doesn't dig into your wrist as long as the FitBit is fitted with a tiny bit of room, which is how I normally fasten it anyways. It doesn't interfere with the tracking mechanism either.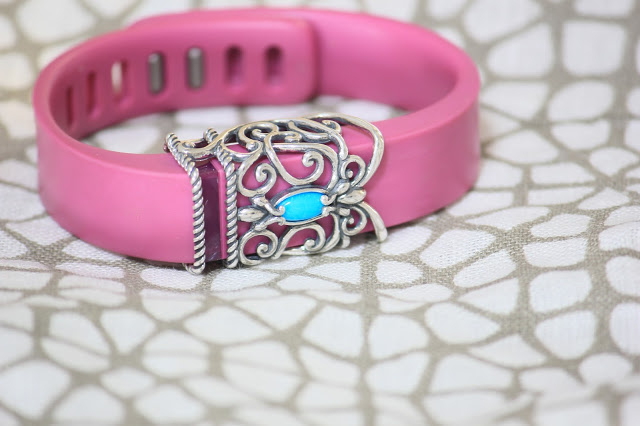 Learn More About Carolyn Pollack Sterling Jewelry
Thanks to Carolyn Pollack for providing a complimentary FitBit charm to facilitate my review. Regardless of compensation, my opinion is always my own.
Giveaway
Enter to win the
FitBit charm
of your choice from Carolyn Pollack using the Rafflecopter form below. We will choose one winner after 3/16/16. Good luck!!