This article is part of a sponsored collaboration with GoalUp. Any opinions or reviews are based on my experience with the company and are never influenced by compensation.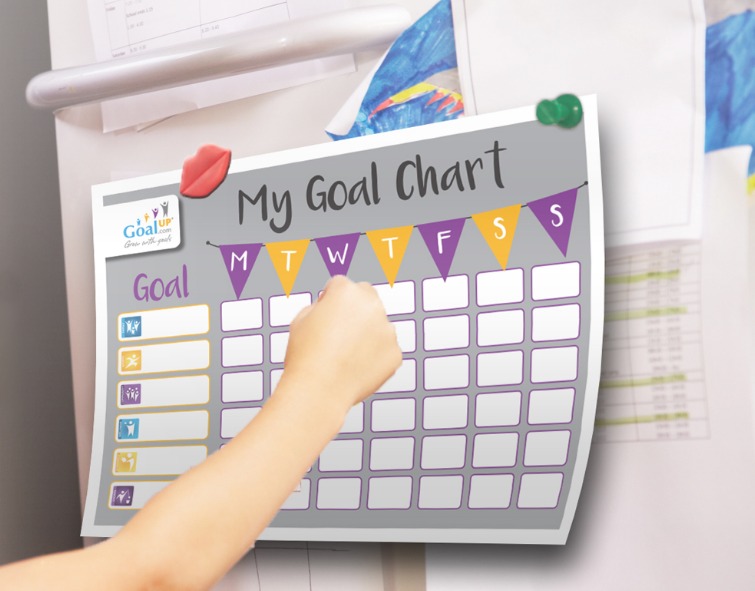 To start off, I'm not an expert on raising kids. I'm still new to this whole parenting thing. My kids are only five and two years old and I fail daily, believe me. But, I do know that I want them to be self-driven, goal-oriented kids who don't need participation trophies to feel good about themselves. Being that I'm a very competitive, goal-oriented person, I would like my kids to understand the type of mindset they need to have to get ahead in life, even if "getting ahead" means little wins or achieving personal goals when they don't always come with a tangible reward.
Why I'm Anti-Participation Trophies
I played sports my entire childhood and all through high school. I remember the feeling of receiving awards for making great plays during a softball game or for being the MVP three out of four years as a high school cheerleader. It felt amazing. I also remember that feeling when someone else would win an award that I so badly wanted.
Instead of throwing a fit about not winning the award, I worked five times harder the next game. And you know why? Because my parents taught me to earn it. I used that jealousy or bitterness as fuel and worked to improve where I needed to improve.
Kids need to be taught that while attempting and failing is not always a bad thing, being driven and self-motivated is everything. Nobody can take your passion or drive away from you and even though there isn't always a tangible reward for your efforts or accomplishments, you can live knowing that you truly tried your hardest. You can be proud of yourself.
What does it mean to be self-motivated and goal-oriented?
Well, I suppose that depends on the individual. Most of us adults have some sort of end goal in mind when we go about our day. Whether that goal is to drink your coffee while it's still hot (stay-at-home-mom problems), finish a task at work, fold and actually put away that basket of laundry, nail a presentation, or hit a home run during a company softball game, we consciously and even subconsciously set goals for ourselves. Sometimes goals can have a physical reward like a trophy or a bonus paycheck and sometimes they don't.
Being self-driven means that you don't necessarily need a reward for your efforts. You don't need someone to hold your hand and walk you through life. You just simply want to be the best, and maybe get a little bit of verbal recognition, but it's more for yourself. Can you live with yourself knowing that you aren't giving life 110%? I sure as heck can't.
Teaching kids to be self-motivated is one of our biggest struggles as a parent. It's important to remember to lead by example, though. Show your kids that you can set goals, accomplish them and feel great about it. Also, show your kids how much harder you are going to work in the instance that you don't reach your personal goals.
One tool that I think will be beneficial as my kids grow can be found at www.GoalUP.com. GoalUP is built around the concept of establishing good goal setting habits in kids early in life as a path towards a more successful life. It does allow parents to reward for accomplishments as a way of recognizing outstanding efforts and to jump start their child's natural desire to attain goals. By doing so, GoalUP helps children to build the intrinsic "muscle memory" that comes from feeling great about succeeding
Parents, are we failing?
Is it that we are getting lazy, or are we just too busy to teach our kids how to be self-motivated? Life gets in the way sometimes and I think we forget the importance of playing catch or riding bikes with our kids. We don't alway start out the best at things. Things take practice.
We forget how important it is to have kids do chores. We forget how important it is to teach kids to work for what they want. Sometimes it's just easier to do things ourselves because kids take too long or we are just tired of the whining. Guys, we have to let them do things on their own. It has to begin at home.
Setting S.M.A.R.T. Goals
GoalUp said it perfectly. We need to teach out kids to set S.M.A.R.T. goals:
Specific
Measurable
Attainable
Relevant
Time-Bound
1. Think of a goal.
2. Set the goal.
3. Communicate about the goal.
4. Parents – Monitor the progress of your child's goal. Help them stay on track.
5. Achieve the goal!
Tools for Helping Kids Set Goals
A great beginner way to teach the importance of setting goals is to hang up a goal chart. Teach kids to set smart goals. Something as simple as a piece of paper with a bunch of squares on it can go a long way in teaching kids to be goal-oriented. You can get a free goal chart from GoalUp.com.
If your kids are a little bit older and use a smartphone or tablet, the GoalUP app might be a good option for them. The app makes it easy to monitor the progress of our kids' goals and instantly reward them. We are able to empower action through technology and I love it.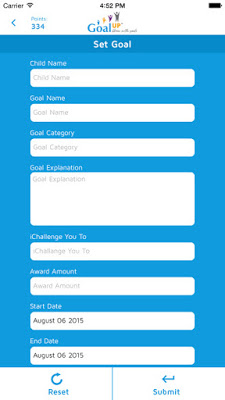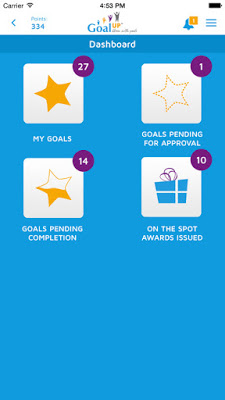 Start small and work your way up with goals with your kids. These habit-forming actions help shape our kids and help mould them into adults that contribute to society instead of those that take from society.
How are you going to help your kids set personal goals? I would love to hear your advice. Leave me a comment!