Sometimes, it's nice to step away from a world run by technology and venture into nature. Reconnecting with nature can be calming and refreshing. Hiking can be an enjoyable way to spend time with friends and family as well.
While some of the best hiking trails in United States are quite long, they offer breathtaking views. Depending on how active you are, some training and preparation will be required to successfully hike some of these trails. However, individuals who want to challenge themselves should try walking these 10 most impressive hiking trails in the USA at some point in their life.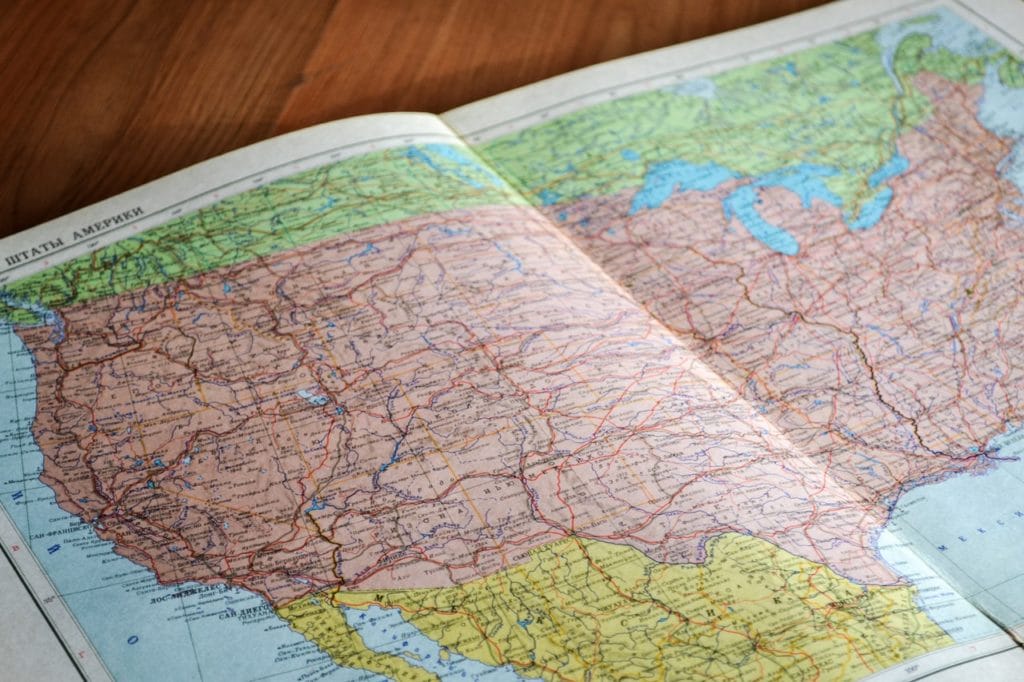 Top 10 Most Impressive Hiking Trails in the USA
Paint Mines Trail
The Paint Mines Trail in Colorado is a good starter trail. It's a 3.6 to 4-mile loop trail. While 4 miles might seem long, the trails ranges from easy to moderate difficulties. Therefore, it's not a rocky or particularly steep trail.
On this hike you'll see hoodoos, caprock canyons, and clay formations. However, its recommended to stay away right after it rains, as washouts can look like trails. Furthermore, the area is rich in history and there is evidence that humans lived in the nearby mines 9,000 years ago.
Angels Landing
Angels Landing is a trail for the mentally strong. Located in Zion National Park in Ohio, this hike isn't physically difficult. However, if you are afraid of heights then prepare yourself.
The trail is only 2.5 miles long and it was cut into the rock in 1926. It takes hikers to the top of Angels Landing, giving them a spectacular view of the canyon. However, the end of the trail becomes steep and runs along complete drop-offs. Therefore, only the bravest of hikers get to the end.
Mt. Healy Overlook Trek
Hiking up a mountain might not sound ideal. However, the Mt. Healy trail in Alaska only travels partway up Mount Healy. While the trail can get steep, it isn't a horribly difficult trail to hike. It's 2.7 miles and takes about 2 hours to hike one way.
The Overlook Trail starts out in a forest, but hikers will also see the alpine tundra. At the end of the trail, you'll be able to see a gorgeous view of the valley. If you're an experienced hiker you can continue walking another 2 miles to get to the top.
The Grand Canyon
It's no surprise that the Grand Canyon is considered one of the most amazing USA trails. There's no better way to see one of the wonders of the world. However, hiking the Grand Canyon is not easy. First-time Grand Canyon hikers only travel 1 mile per hour.
There are two trails: the South Kaibab Trail, which is 6.8 miles, and the Bright Angel Trail, which is 9.3 hours. The trails don't loop around so plan to stay at Bright Angel Campground overnight. For difficult hikes such as this one consider bringing a survival watch.
Precipice Trail
The Precipice Trail is another trail for experienced hikers. It's located in the Acadia National Park in Maine. It's only 1.6 miles round-trip, but the hike is along steep, narrow ledges.
However, if you're able to build up the stamina for difficult hikes, the Precipice Trail offers gorgeous and unique views of Maine's ocean. Hikers who have reached the end of this trail have said the view is worth the hike.
Highline Trail
If you don't want to tackle difficult trails, then consider hiking the Highline Trail in Montana. This trail isn't open year-round, but it offers serene views when it is open. The trail goes along the continental divide and might make individuals afraid of heights shudder.
However, the 11-mile trail is pretty flat. Therefore, beginner hikers shouldn't find hiking it too much trouble. You might even come across some wildlife, such as a bighorn sheep or mountain goat. Keep your eyes peeled for grizzlies, as they've been known to make an appearance every so often.
Greenstone Ridge Trail
If you want to take a week-long hike, then the Greenstone Ridge Trail is perfect. This 40-mile trail is located on Isle Royal, the largest island on Lake Superior. The trail will take you from one end of the island to the other. You'll get amazing views of Lake Superior and its other islands.
This trail isn't well-known, so you won't run into a lot of other hikers. There are 36 campgrounds located along the trail, so don't worry about roughing it in the woods. It takes most hikers four or five days to complete, and there's a boat shuttle that will take you back to the beginning once you've finished it.
Great Smokey Mountains
Don't be deterred by the idea of hiking and camping in the mountains. The Great Smokey Mountains are one of the easiest mountains to hike year-round and there are 80 hiking trails to choose from. Whether you are an experienced hiker or a beginner, there should be at least one trail for you.
These mountains offer a wide variety of views. There are streams and waterfalls flowing throughout the mountains. There are designated walking trails that go through the forest. You might even see various wildlife.
The Appalachian Trail
The Appalachian Trail is probably one of the most well-known trails in the United States. The entire trail is about 2,190 miles. Therefore, very few people hike the entire trail in one hike, as it takes about 6 months. However, it's a great trail to hike in pieces.
The trail passes through 14 states and many different state parks and forests. Therefore, there are many entry and exit points. The first 30 miles of the trail is host to the Lower Wilson Falls, maple forests, rivers, and Maine's backwoods.
Beacon Heights
Beacon Heights, located in North Carolina, is another easy hiking trail with once-in-a-lifetime views. The hike is less than one mile one way. Therefore, it's a great hike for beginners and may even be an option for younger children to hike.
At the end of the trail, you can see the Grandfather Mountain, MacRae Peak, and Rough Ridge Overlook. If you want more of a challenger the trail does access a 13.5-mile hike, known as the Tanawha Trail. This trail ends at Price Lake and the Mountains to the Sea Trail.