Sparkling water has been so popular lately, and we have totally jumped on the bandwagon.  Sugar and I haven't exactly been friends lately, so when I'm craving a fizzy cold drink, I turn to flavored sparkling water (typically store bought).  I just started using the SodaStream Power machine to make my own sparkling water, and I'm super excited to share my SodaStream Power review along with some great sparkling water recipes with you all.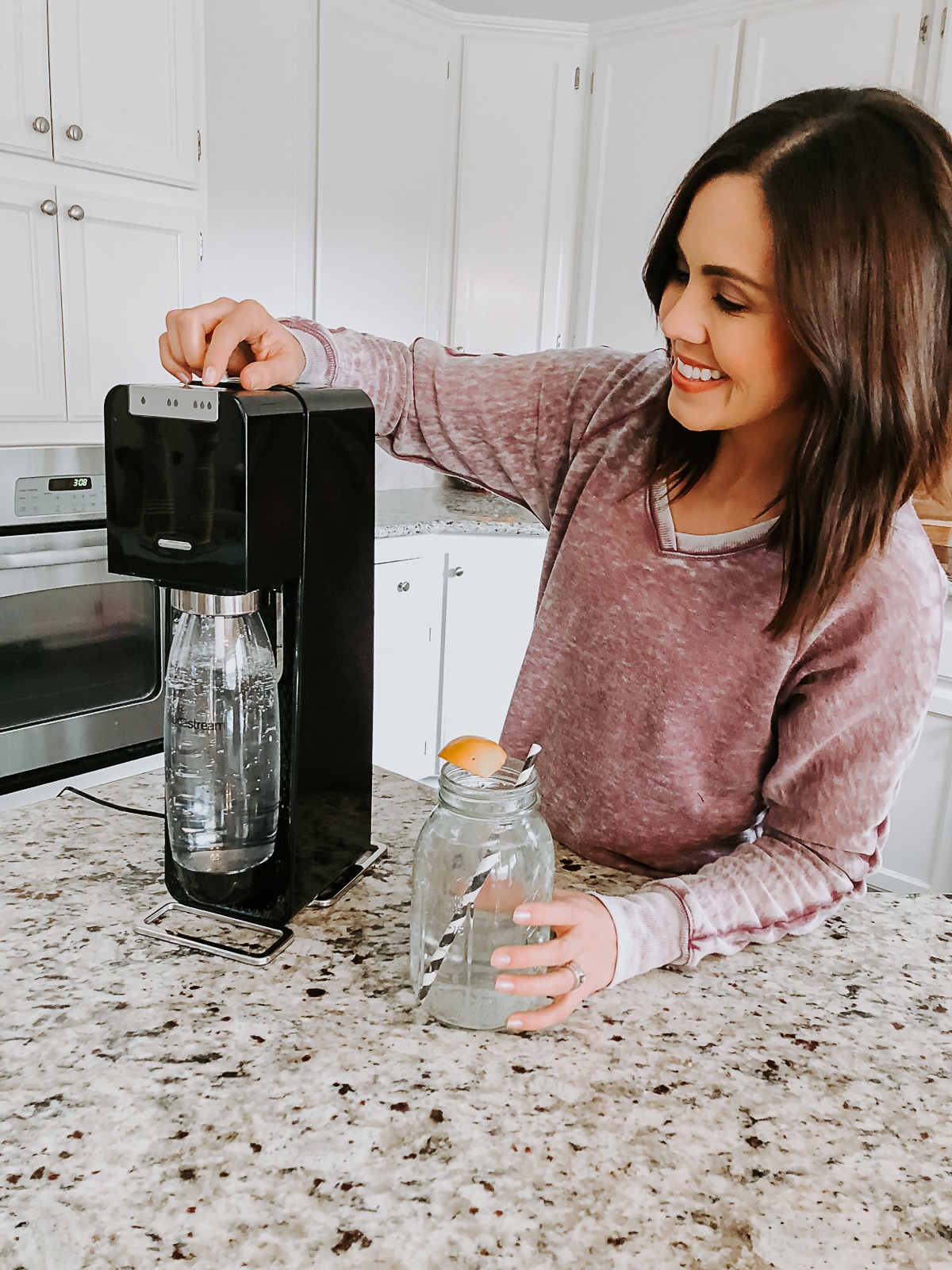 We all know that drinking water is a staple of not only weight loss, but a healthy lifestyle change, however, many people find flat water difficult to drink. It's a bit boring and lots of us still crave that fizzy goodness of soft drinks, but don't necessarily want the sugar that they usually contain.  With the touch of a button, SodaStream carbonates water, turning it from flat into sparkling water in less than a minute.
Not only is sparkling water easier for many people to drink, it's cheaper and better for the earth than starting a La Croix addiction in the name of weight loss!  We are huge La Croix fans here, but they can get pretty pricey.  Buying them in bulk at Costco has been the cheapest way to indulge in La Croix, but I've found the SodaStream to be cheaper and more customizable.
Studies show SodaStream owners consume 43% more water than those who don't have a machine — that's 3 more glasses of water each day  Staying hydrated is a cornerstone of any healthy lifestyle, but it's especially important for those looking to make and keep those weight loss resolutions in 2018.  I hope my SodaStream Power review helps you make a healthier decision this new year and I hope you love it like we do.
SodaStream Power Review
The SodaStream Power machine is so easy to use and automatically makes sparkling water with the push of one button.  You simply add your own syrup or fresh fruit to the water and you have your own DIY sparkling water!  My only complaint is how tall the machine is.  The height makes it a little more difficult to store than a smaller appliance, but if you have the perfect spot for it, it makes a great addition to your kitchen.
Scroll down to see my full review.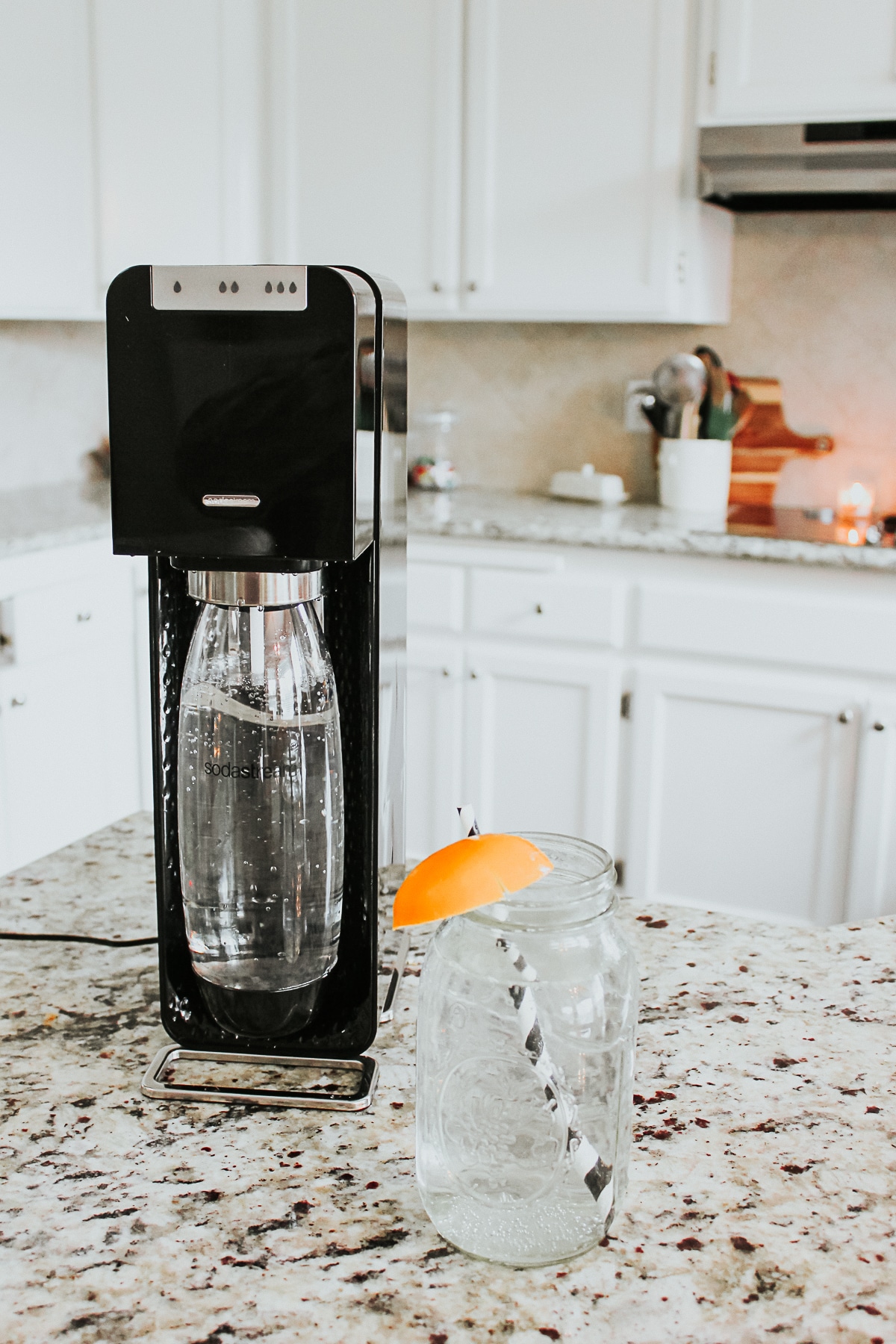 Whole30-Friendly Spritzer Recipes
Watermelon Jalapeno Crush
Ingredients
1/8 of a Watermelon (cubed)
One bottle of Soda Stream sparkling water
½ lime
Mint leaves
One jalapeño
Ice
Instructions
Throw the Watermelon, ice, mint (depending on how minty you want it), a few thin slices of jalapeño (or more depending on how spicy you want it!) and a squeeze of lime into a good strong blender.
When thoroughly blended transfer the mixture into 4 cups so that they are 1/3 full. Top with sparkling water.
Garnish with mint and extra jalapeño rings.
Cucumber and Lime Sparkling Water
Ingredients
Sodastream

 sparkling water
Cucumber
Lime
Instructions
Use your 

SodaStream

 to prepare sparkling water (fizz to your liking)
Wash the cucumber and slice wide thin stripes (you can use a vegetable peeler)
Pour the sparkling water to a big jug, add the cucumber slices and add some drops of lime for extra flavor. Serve cold.
Strawberry Mint 

SodaStream

 Spritzer
Ingredients
Sparkling water
3 strawberries
Mint leaves
Instructions
Use your 

SodaStream

 to prepare fresh sparkling water, and pour it into a tall glass.
Dice the strawberries and add to the glass.
Wash the mint leaves and add a few to the glass with sparkling water and strawberries.
Let it sit for a few minutes to allow the flavors to emerge.
Giveaway
SodaStream is graciously offering one lucky reader their very own Power Sparkling Water maker.  Enter to win using the Rafflecopter form below.  We will choose one winner after 2/7/18.  Good luck!