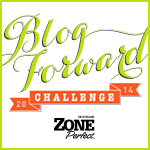 If you've been following us for a while you may remember our Zone Perfect Blog Forward Challenge #1 post back in January. If you don't remember, here's a quick recap…
Like lots of other people, we made three new year's resolutions. Those were to:
1) eat better
2) do at least a 30 minute workout each day
3) play more with my daughter
Disclosure: Although I have entered the Zone Perfect Blog Forward program and received complimentary product and ZonePerfect promotional items, I am free to comment about ZonePerfect in a positive, neutral or negative fashion as I wish.
In challenge #1, I wrote a letter to myself that stated:
"Dear self, I know you haven't been sticking to all of your new year's resolutions but don't be so hard on yourself. Big changes start with baby steps and a LOT of will power and YOU CAN DO IT! Now get off of Pinterest and cook a healthy meal, do a little workout or get outside and play with your daughter." – Self
By the time challenge #2 came along (in May 2014), I had fallen off of the "healthy eating" band wagon due to being a few months pregnant. At that point I just wanted whatever I was craving and what wouldn't make me sick. Now that challenge #3 is here, I feel that I've been back on track with the healthy eating. I've been wanting nothing but fresh foods like fruits, vegetables and healthier meals and snacks during the third trimester. While I'm partial to the awesome Zone Perfect bars, I will recommend that you try the
kid's Zone Perfect bars
and the Simply Perfect bars. These are my favorites for snack time and easy to take along in the diaper bag.
As far as resolution #2 (the workouts), I have definitely not stuck to these. I have no problem walking 3+ miles in the mornings but I just haven't been on a regular routine of doing this. However, I cannot wait to get back to a regular workout routine after I have this baby. I'm ready for the Fall weather, morning walks and occasional gym sessions.
I've been doing great with resolution #3 (playing with my daughter more). She now goes to preschool two days per week which gives me more time alone to get blog work done and more time with her when she's home. We recently celebrated her 3rd birthday and she got lots of fun new toys and activities that keep us busy, busy, busy.
These Blog Forward challenges from Zone Perfect have certainly made me more aware of my original resolutions. I would normally do the "set it and forget it" method where I would make resolutions and forget about them a few months later.
GIVEAWAY
To celebrate the fact that we are almost through this year and have made it through the Zone Perfect challenge #3, we're offering you a giveaway! Enter to win the goodies shown below to help you stay on track with your healthy resolutions! Simply enter using the Rafflecopter form below. We will choose one winner after 10/17/14. Good luck!
Before you enter, please vote for us on Top Mommy Blogs by clicking the banner below. One click a day is all it takes 🙂