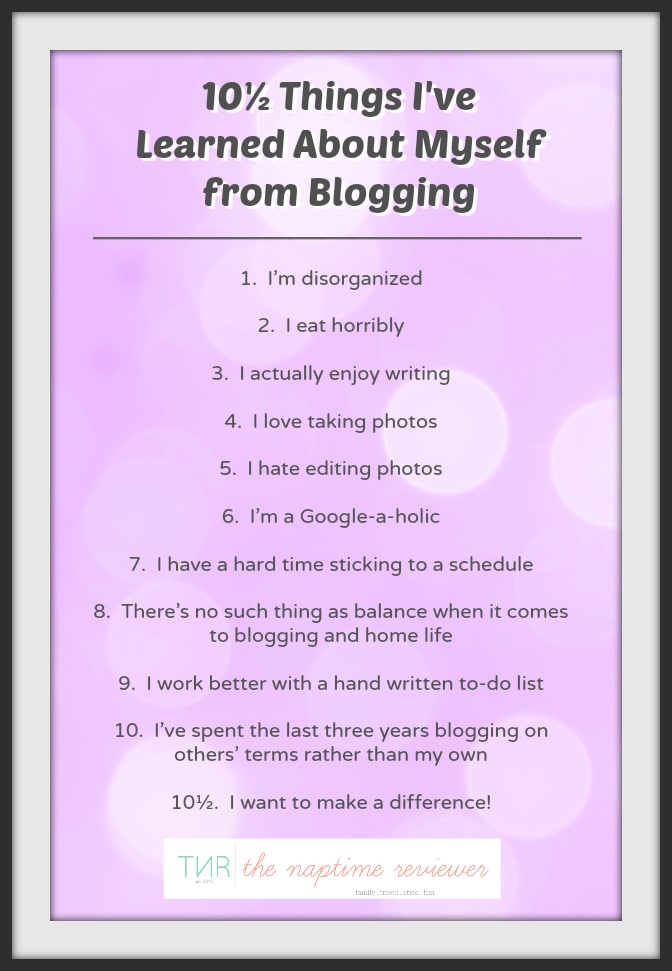 1. I'm disorganized
Prior to blogging, I had a desk job for five years. I had a daily routine, a schedule to follow and my days were very repetitive. And then I became a stay-at-home-mom which eventually led to blogging in 2012. People always ask me how or why I started blogging. My answer to this is:

Going from a full time desk job to a SAHM had me craving paperwork, emails and adult time. I created my blog, initially, for a way for me to feel "important" in other ways besides being a wife and mother. I had no idea what I wanted to blog about except for the fact that I wanted to review things.
So, I started reviewing products that I already had. Then, I began reaching out to brands introducing myself as a product review and travel blogger. Now, three years later I know my niche(s) and can focus on what I really want to focus on which is family, travel, style and fun.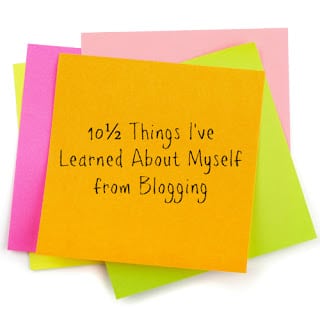 I rely heavily on Post-It notes to jot down ideas for articles and reminders. I put sticky notes on my computer monitor, my desk calendar, my actual desk, my notebooks and even on the products themselves. The reason I stick with the actual Post-It brand of sticky notes is because they actually stick. The dollar store brand is horrible and ends up curling up and falling off of the surfaces. You can find coupons for Post-It notes here.
2. I eat horribly
I never thought in a million years that my eating routine would take a turn for the worst becoming a work-at-home-mom. The truth is, having that full time desk job outside of the home kept me on a good eating routine because I was taking regular breaks. My body got used to consistent mealtimes and my tummy growled every few hours. Now, I'm lucky if I drink a glass of water during the work day. Between taking care of two kids, working, paying bills, cleaning house (ha!), etc. I don't ever take time to just eat a good meal. I've tried services like Freshly, which are great, but I can't always afford that.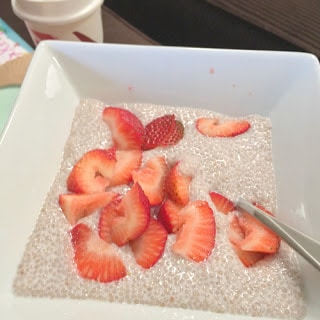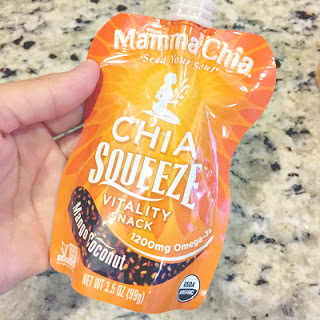 I love grab-and-go food but find that a lot of it has not-so-great ingredients and I wind up hungry soon after. Foods like Mamma Chia squeeze pouches, granola or chia drinks fill me up more than those 100 calorie pack snacks and they taste way better, too. Chia seeds are super filling and can be tossed in just about any recipe. One of my go-to make-ahead snack recipes is vanilla Chia pudding.
3. I actually enjoy writing
Who knew? The girl who can't finish a book to save her life actually enjoys writing! Maybe it's because I have a lot to say? Or maybe it's because writing is my daily dose of adult "talk" after being with kids 24/7? I'll admit that while I love writing, I hate proof reading.
4. I love taking photos
If you watch a blogger from a distance, you'll notice them taking pictures of just about everything. Food. Drinks. Products. Selfies. Kids…
I love taking pictures with my Canon DSLR camera to get better quality photos, but sometimes it's just easier to use my iPhone 6. The only problem with using my phone is that now I have 3,000 + pictures on my phone and can't bring myself to part with any of them.
Since I post most of my pictures to Instagram, I decided to enroll in a service called BooksTo.Me. BooksTo.Me delivers a month's worth of pictures to me in a photo book format for $24/month. You just sign into the BooksTo.Me site with your IG info and fill our your payment information. It's super easy and takes one less task off of my plate.
5. I hate editing photos
There. I said it.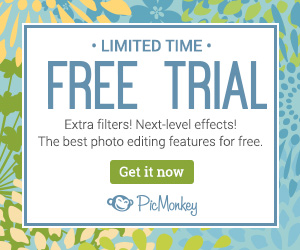 (affiliate banner)
I enrolled in the PicMonkey.com's Royale package for $33/year to help with the photo editing process, but I still hate taking the time to make the edits.
6. I'm a Google-a-holic
I Google (search) everything from popular keywords to the definitions of words I'm not very familiar with. It's my go-to search engine for just about everything.
7. I have a hard time sticking to a schedule
In my mind, I've created the perfect organizational system for home life and blog stuff. I've pinned lots of organizational methods as recommended by other bloggers, but I truly do have a hard time actually sticking to the schedules I've created. I'm not exactly sure what the cure for this is, but it could have to do with reducing my workload (not overbooking) and will power.
8. There's no such thing as balance when it comes to blogging and home life
When I attended the Social Media on the Sand conference in Turks and Caicos, I heard from so many other bloggers that they, too, have a hard time finding a balance. This made me feel so much better and less of a failure.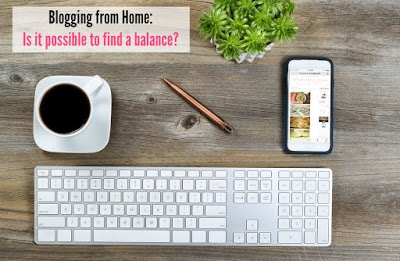 It's hard to set aside certain times during the day to only check emails or only write articles when you work from home. The kids are demanding, the husband is demanding, the pets are demanding, etc.
9. I prefer hand-written to-do lists
Since I was in high school (eh-hem years ago), I learned that if I write something down with a pen and paper, I'm more likely to remember to do it – even if I never look at the paper again.
Earlier this year I discovered a brand called Gotcha Covered Notebooks to design
personalized notebooks
to take with me to blogging conferences. For some reason having a pretty notebook means I'm more likely to write my to-do lists down. I feel proud of that notebook every time I whip it out because I'm reminded of how blessed I am to even have a to-do list to write down.
The reason I prefer a notebook like this versus a cheap $1 notebook from Target is because these ones are bound so much better. I never have issues with the papers tearing out because they are thicker than typical notebook paper.
10. I've spent the last three years blogging on others' terms rather than my own
It never fails. I get a pitch emailed to me and I agree to it, rather than express my ideas of how my skills can benefit the brand. I have a passion for creative marketing but I like to do so without making my readers feel "influenced." I also hate the term "influencer." Nobody wants to feel influenced – am I right?
10½. I want to make a difference!
So, as you can see blogging has taught me a lot about myself. I'd love to hear some of your experiences with blogging. Leave me a comment!